CORONAVIRUS ANNOUNCEMENTS
GARDENS CLOSED
The Frelinghuysen, Willowwood and Bamboo Brook Arboreta, are closed to the public until further notice. See the current 8-page announcement on the Morris County Parks Commission's website for this and other park closings.
Please continue to check here and at the above link for confirmation before visiting.
We will keep you posted as later news becomes available.
BLACKBURN SCHOLARSHIP
The Covid-19 epidemic has caused serious disruptions to all the students and faculty at County College of Morris, so we have decided to postpone awarding a Blackburn Scholarship until next year. Best wishes to all of you and stay healthy.
TULIP PLANTINGS AT THE FRELINGHUYSEN ARBORETUM
We have just received the completed video of the Tulip plantings at The Frelinghuysen Arboretum and we are very anxious to share it with you. We know it's not the same as strolling the Arboretum grounds, but we hope you enjoy this virtual tour of the lovely Tulips in full bloom.
Thank you so much to all our Members and Donors who contributed towards the purchase of the Tulip bulbs and made this lovely display possible!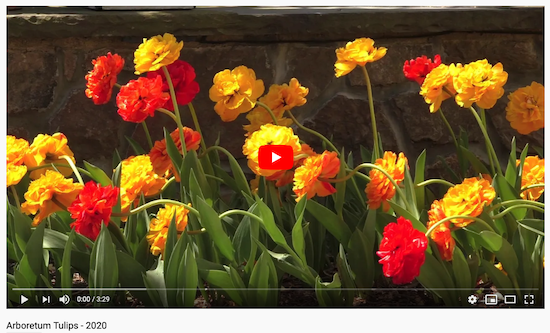 Click to view
Gardentopia: Design Basics for Creating Beautiful Outdoor Spaces
by Jan Johnsen June 14th at 2 p.m.
This is a Members Only Event. RSVP by 12:00 p.m. on June 12th to be sent a link to the event.
CLICK THE IMAGE BELOW TO REGISTER ON-LINE.
Join the Friends of The Frelinghuysen Arboretum for our first ever Virtual Annual Meeting! Spend a fascinating and idea-filled afternoon with NY designer Jan Johnsen as she shares highlights from her recently published book: Gardentopia.​ Find out how you can shape your own yard to combine the art of landscaping with ecological awareness. Jan's inspiring presentation will have you seeing all the possibilities your garden areas offer. By utilizing such ideas as "hide and reveal", "lure of the sheltered corner" and "principle of three depths" you can make your outdoor space a place of beauty and delight. Plant Lists will be available.
Jan has designed beautiful landscapes around the world over the past four decades and has lectured widely on her work. She also has taught at Columbia University and the New York Botanical Garden. Gardentopia is her third acclaimed book. You can learn more about Jan and her work at ​www.johnsenlandscapes.com​ and follow her blog at serenityinthegarden.blogspot.com or her page on ​Facebook​.

Click to register on-line
APHIDS ON HELLEBORES
Apparently Hellebores have their own, species specific,variety of aphid which preys on them. Macrosiphum hellebori does not mind cold temperatures and can feed through the winter. So they were probably there before you noticed them. As warmer temperatures came, they moved to more succulent parts of the plant, their numbers increasing rapidly. Flowers and stems become deformed. There are some sources that say the dreaded 'black death' of hellebores is transmitted by these aphids, but there are differing opinions on this.
You are no doubt seeing the honeydew they secrete as well as their shed skins as they grow larger, molt and multiply. See photos for aphid appearance.
Hellebores have always been touted as being largely free of insect and disease problems. There are no reliable sources (.gov or .edu sites) that discuss this at all. So we are left with the usual remedies. Insecticidal soap and horticultural oil. C. Colston Burrell in his monograph Hellebores: A Comprenesive Guide recommends pyrethrums if the former don't work. Others talk about systemics, but caution not to use when flowers are open as it can be harmful to pollinators. Yes, the spray of the hose and squishing them also work!
Whatever product you choose, you will need to get the spray UNDER the leaves in order to be effective. There are some sprayers sold which in theory will adjust to allow this. In the case of heavily infested plants, you may just have to bite the bullet and cut out and remove them. If they are healthy enough to produce seed, they may sow a lot of little ones and you can treat those with whatever product you choose to keep the population from becoming established again.
Click to enlarge.
Article and photos by Sally Hemsen, Founding Member of the Morris County Master Gardeners, Past President of the Friends of The Frelinghuysen Arboretum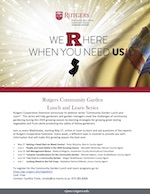 Rutgers Community Garden Lunch & Learn Series
Rutgers Cooperative Extension announced a community gardening Lunch and Learn series that begins Wednesday May 27 that continues through July 1.
The lectures will be held on Wednesdays from noon to 1pm. Click on the flyer for more details.
When shopping at our fine Retail Partners, please remember to present your Membership card at the beginning of your check out transaction. Our Retail Partners need to enter the discount at the beginning of that process.
If you have not yet used this wonderful Member Benefit, you can view our full list of Retail Partners by clicking here.
Amazon Smile
Don't forget to "SMILE!"Amazon Smile, that is!
Amazon, through the AmazonSmile Foundation will contribute 0.5% of your purchases on Amazon to a charitable organization you select. Please consider selecting The Friends of the Frelinghuysen Arboretum as your designated recipient from this wonderful program.
Click here and log in to your amazon account to designate the Friends as your charity.
All our events can be found on our Events Page where, we are happy to say, you can register and pay on line -- just click on the "Add to Cart" buttons on our Events page and Membership page. Questions or need more information? Call 862-325-7754.