IMPORTANT INFORMATION
Friends Staff will be out of the office until January 2021, however we will continue working remotely, so please note our new Post Office Box number and staff emails. Please feel free to contact us via either method.

Friends of The Frelinghuysen Arboretum
Post Office Box 2267
Morristown, NJ 07962


Lisa Bencivengo: lbencivengo@arboretumfriends.net
Margery Ennist:  mennist@arboretumfriends.net

CORONAVIRUS ANNOUNCEMENTS
GARDENS CLOSED
The Frelinghuysen, Willowwood and Bamboo Brook Arboreta, are closed to the public until further notice. See the current, regularly-updated announcement on the Morris County Parks Commission's website for this and other park closings.
Please continue to check here and at the above link for confirmation before visiting.
We will keep you posted as later news becomes available.
All Program Registrants Please Note: As all of our programs are being held virtually, the program fees have been modified and will not be as printed in the current issue of Arboretum Leaves. Please check our website before mailing us a registration check, to make sure your check is for the correct, lower amount. Thank you!
Wednesday, July 22, 7:00 to 8:30 pm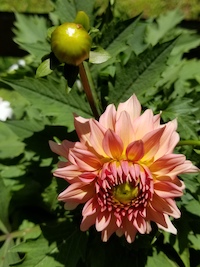 VIRTUAL ZOOM MEETING
Join Samantha Rothman of Fairview Farm and Flowers to learn all about Dahlias. Each year her flower farm grows thousands of plants. Together we'll learn about sourcing plant materials, tips and tricks to grow your best flowers yet, as well as how to effectively dig and store your tubers. Sign up to hear from this Dahlia addict - you're sure to become one too!
After you register, you will receive a Zoom link, 24 hours prior to this event. If paying by check, payment must be received to our new post office box (PO Box 2267, Morristown, NJ 07962) by July 16, 2020. Please email lbencivengo@arboretumfriends.net with any questions.
This program is eligible for 1.5 Rutgers Master Gardener CEU's.
Thanks to Margery Ennist for the Dahlia 'Gallery Leonardo' photo.
Thursday, August 6 - 7:00 pm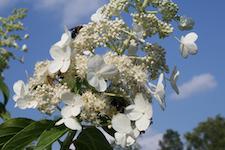 VIRTUAL ZOOM MEETING
The Friends of The Frelinghuysen Arboretum are delighted to work with the Master Gardeners to bring you this free program.
Master Gardener, Diane Lattanzio will speak about Hydrangeas, well-known for their enormous clusters of white, pink and blue flowers in the summer garden. Yet, gardeners are often puzzled by this beautiful and very popular plant. Through her presentation, Diane will address questions regarding the selection, care, maintenance, pruning and propagation of this old-fashioned favorite. Handouts will be available.
If you missed Gray Russell's Zoom presentation on July 14, entitled "Composting and Eco-Friendly Yard Care", it's not too late to register for it and receive a link to watch the recorded version.
When shopping at our fine Retail Partners, please remember to present your Membership card at the beginning of your check out transaction. Our Retail Partners need to enter the discount at the beginning of that process.
If you have not yet used this wonderful Member Benefit, you can view our full list of Retail Partners by clicking here.
Amazon Smile
Don't forget to "SMILE!"Amazon Smile, that is!
Amazon, through the AmazonSmile Foundation will contribute 0.5% of your purchases on Amazon to a charitable organization you select. Please consider selecting The Friends of the Frelinghuysen Arboretum as your designated recipient from this wonderful program.
Click here and log in to your amazon account to designate the Friends as your charity.
All our events can be found on our Events Page where, we are happy to say, you can register and pay on line -- just click on the "Add to Cart" buttons on our Events page and Membership page. Questions or need more information? Call 862-325-7754.