IMPORTANT INFORMATION
Friends Staff will be out of the office until January 2021, however we will continue working remotely, so please note our new Post Office Box number and staff emails. Please feel free to contact us via either method.

Friends of The Frelinghuysen Arboretum
Post Office Box 2267
Morristown, NJ 07962


Lisa Bencivengo: lbencivengo@arboretumfriends.net
Margery Ennist:  mennist@arboretumfriends.net

CORONAVIRUS ANNOUNCEMENTS
GARDENS REOPENED
The Morris County Park Commission has reopened the three horticulture parks with the following schedule: (their weblink here)
Frelinghuysen Arboretum: Mon - Fri, Noon to dusk.
Willowwood Arboretum: Mon - Fri, 10am to 3pm.
Bamboo Brook Arboretum: Mon - Fri, 10am to 3pm.
Parking may be limited. All buildings will remain closed. Porta-johns will be available.
All park patrons are encouraged to follow social distancing guidelines. Wearing masks is also recommended.
We will keep you posted as further updates become available.
All Program Registrants Please Note: As all of our programs are being held virtually, the program fees have been modified and will not be as printed in the current issue of Arboretum Leaves. Please check our website before mailing us a registration check, to make sure your check is for the correct, lower amount. Thank you!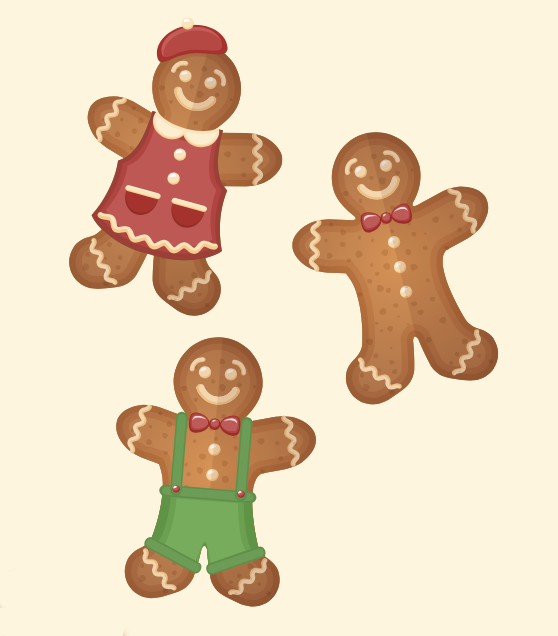 GINGERBREAD WONDERLAND NEWS
Since the Haggerty Education Center will remain closed through the end of the year, the Friends' Gingerbread Planning Committee is busy working on how we can bring you a Virtual Gingerbread Exhibit to celebrate the 29th year of this very popular show.
Keep watching here and on our website for more details!!!
Tuesday, September 15 - 6:30 PM
VIRTUAL ZOOM MEETING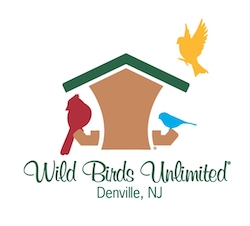 The Friends of The Frelinghuysen Arboretum are delighted to bring you this free program.
Jim Walker, owner of the Wild Birds Unlimited store in Denville, New Jersey will speak about the different species of birds you are likely to find in your own backyard. Jim will also cover the types of seed that attract different species of birds, specific habitats that will bring birds to your yard, as well as their food, water, shelter and nesting site needs.
Birding can be a fascinating and educational hobby for all ages. Sign up and learn how to get started!
The program is free, but registration is required.
Thursday, September 17 - 7:00 PM
VIRTUAL ZOOM MEETING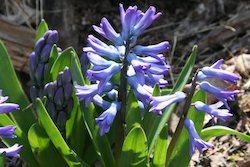 The Friends of The Frelinghuysen Arboretum are presenting several free Zoom talks on how to grow various types of reblooming bulbs in your garden.
The second program in the series, entitled Flower Power for Minimal Effort: Planting Bulbs for a Six-Month Succession of Bloom", will be presented by Ilona Ontscherenki on Thursday, September 17 at 7:00 PM.
The program is free, but registration is required.
Thursday, September 24, 7:00 pm
VIRTUAL ZOOM MEETING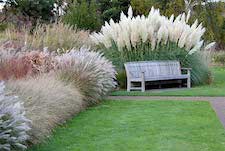 The Friends of The Frelinghuysen Arboretum are happy to work with the Master Gardeners to bring you this FREE program.
Master Gardener, Diane Lattanzio, will answer the question: "Why are ornamental grasses so great?".
Ornamental grasses are drought tolerant, easy care, deer resistant, perennial foliage plants that can enhance your landscape, Diane will cover the growth habits, care, maintenance and uses of a variety of ornamental grasses in the garden. Handouts describing the characteristics and care of ornamental grasses will be provided.
IMPORTANT INFORMATION!!!
The invasive and very destructive Spotted Lanternfly is making its way into New Jersey.
Read about it in this flyer.
Remember, if you see it, report it!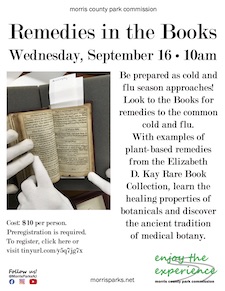 REMEDIES IN THE BOOKS
Wednesday September 16 - 10:00 AM
(Presented by the Morris County Park Commission)
Learn the healing properties of botanicals and discover the ancient tradition of medical botany.
Click on the flyer for more information and how to register.
BEAUTY AT THE FRELINGHUYSEN ARBORETUM
The grounds of The Frelinghuysen Arboretum have only recently reopened to the public, but it's clear that the gardeners have been working hard all along to keep everything looking beautiful!
Thanks to Margery Ennist for her photos of the Rosa cv. Korwest, Entry Garden and Coleus, Colocasia and Persian Shield. Click on an image to open in our picture gallery.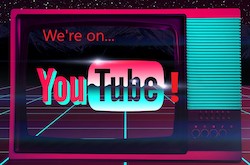 FRIENDS YOUTUBE CHANNEL
We are happy to announce that the Friends of The Frelinghuysen Arboretum now have a YouTube channel.
Please visit by clicking the image (or going to: https://www.youtube.com/channel/UCCwLu6l-05_VnSNQlkvi3Aw
Once you have registered for "Composting and Eco-friendly Yard Care" or "Dahlias", you will receive a link to watch the recorded version.
When shopping at our fine Retail Partners, please remember to present your Membership card at the beginning of your check out transaction. Our Retail Partners need to enter the discount at the beginning of that process.
If you have not yet used this wonderful Member Benefit, you can view our full list of Retail Partners by clicking here.
Amazon Smile
Don't forget to "SMILE!"Amazon Smile, that is!
Amazon, through the AmazonSmile Foundation will contribute 0.5% of your purchases on Amazon to a charitable organization you select. Please consider selecting The Friends of the Frelinghuysen Arboretum as your designated recipient from this wonderful program.
Click here and log in to your amazon account to designate the Friends as your charity.
All our events can be found on our Events Page where, we are happy to say, you can register and pay on line -- just click on the "Add to Cart" buttons on our Events page and Membership page. Questions or need more information? Call 862-325-7754.