Want to Enter Your Own Gingerbread Creation?
Visit our Virtual Gingerbread Page to learn all the details and submit your entry.
If you are going to submit an entry for this virtual exhibit, please email: mennist@arboretumfriends.net or lbencivengo@arboretumfriends.net to let them know.
Celebrating 29 Years of Wonder!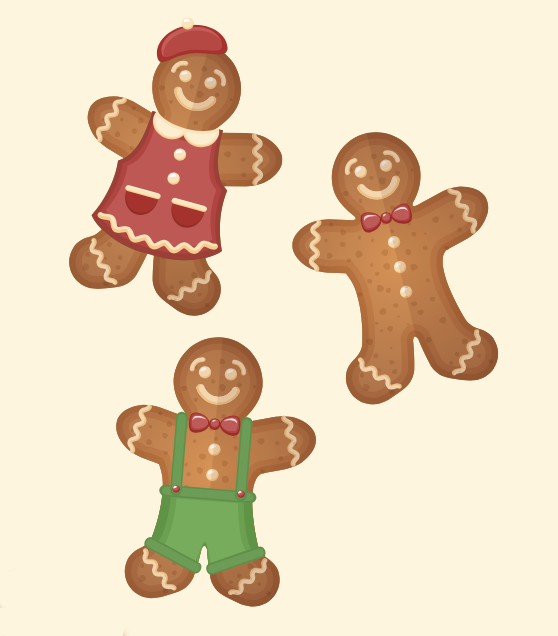 We are accepting applications for our Virtual Gingerbread Wonderland Exhibit (see box for information and link to instructions and video).
The schedule calls for closing applications in late November and opening viewing of and voting for virtual displays beginning in early December until the end of the year.
With your participation, we are looking forward to a wonderful display of Gingerbread creations again this year!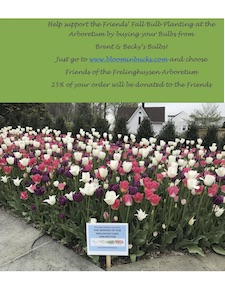 BULB PURCHASES BENEFIT THE FRIENDS
Although this fundraiser has ended, we want to thank everyone who supported the Friends by purchasing bulbs from Brent & Becky's Bulbs this fall.

We sincerely appreciate your efforts on our behalf!
Three consecutive Tuesday evenings: Nov. 24 and Dec. 1 and Dec. 8 at 7:00 PM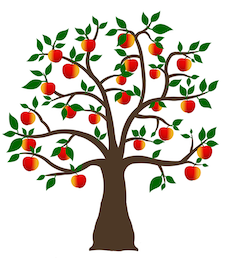 VIRTUAL ZOOM MEETING
Rutgers Master Gardener CEUs and International Society of Arboriculture (ISA) CEUs will be available for all lectures.
Tom Molnar leads the Dogwood propagation program begun by Dr. Orton at Rutgers.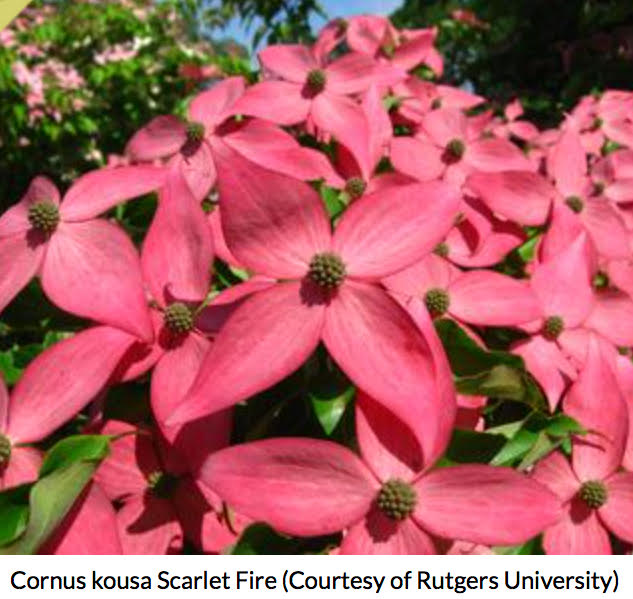 That work led to the introduction of the Cornus kousa 'Scarlet Fire' in honor of Rutgers' 350th anniversary. It has sold out at the Friends plant sale the past two years and is the best pink-red disease resistant Dogwood out there. Dr. Molnar is also having much success with Hazelnut breeding for the benefit of New Jersey commercial growers.
Bruce Crawford, Director, Rutgers Gardens, recommended Tom as a speaker on the topic of grafting at a two-day conference held by the Garden Club of New Jersey several years ago. His talk was voted the best of the two-day event! We have asked him to reprise that talk for us and include the latest techniques and tools being used to bring great new plants to our gardens.
Why not go from arcane to erudite and join us next Tuesday evening, November 24.
Additional information on each program, as well as registration can be found on our website by clicking on the tree image and scrolling down.
Four consecutive Saturdays: January 9, 16, 23 and 31 - 1:00 to 4:00 PM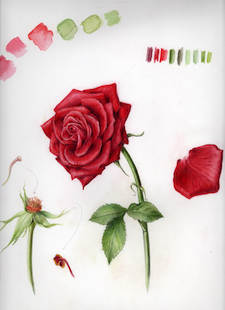 VIRTUAL ZOOM MEETING
Do you ever wish you could capture the details of a plant long after you've seen it? This introductory class teaches you how to make realistic drawings of plants using a variety of techniques. Learn to draw a selection of plant parts, including branches, stems, leaves and flowers, for pleasure or to expand your drawing skills.
Artist Katy Lyness is a passionate home gardener and teaches botanical illustration at the New York Botanical Garden. She has been represented in international exhibitions and is active in the Tri-State Botanical Artist Group. She received her MA in Art Education from Columbia University Teachers' College.
A materials list will be provided at registration.
Registration is limited to 16 participants.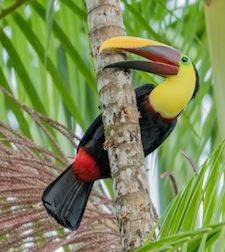 Sunday, January 10 - 4:00 PM
Join the Friends for a Virtual Tour of the Flora and Fauna of Costa Rica
Phil and Becky Witt are volunteer associate naturalists at New Jersey Audubon's Scherman Hoffman Wildlife Sanctuary, where they help lead photography workshops. Becky and Phil started as birders while in graduate school and have continued pursuing their love of nature by traveling from Antarctica to Tanzania to photograph the world's wonders.
This program will be a composite of a number of their trips to Costa Rica, a mecca for birders and nature photographers. Because of its diverse habitats, ranging from tropical lowlands to chilly 13, 000-foot-high mountains, the flora and fauna of Costa Rica are equally diverse. Please join Phil and Becky on this virtual journey of some of Costa Rica's natural wonders - You won't regret it!
Please note that registration for this event will close at 12:00 Noon on Friday, January 8, 2021.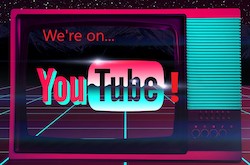 FRIENDS YOUTUBE CHANNEL
We are happy to announce that the Friends of The Frelinghuysen Arboretum now have a YouTube channel.
Please visit by clicking the image (or going to:https://www.youtube.com/channel/UCCwLu6l-05_VnSNQlkvi3Aw
Once you have registered for "Composting and Eco-friendly Yard Care" or "Dahlias", you will receive a link to watch the recorded version.
When shopping at our fine Retail Partners, please remember to present your Membership card at the beginning of your check out transaction. Our Retail Partners need to enter the discount at the beginning of that process.
If you have not yet used this wonderful Member Benefit, you can view our full list of Retail Partners by clicking here.
Amazon Smile
Don't forget to "SMILE!"Amazon Smile, that is!
Amazon, through the AmazonSmile Foundation will contribute 0.5% of your purchases on Amazon to a charitable organization you select. Please consider selecting The Friends of the Frelinghuysen Arboretum as your designated recipient from this wonderful program.
Click here and log in to your amazon account to designate the Friends as your charity.
All our events can be found on our Events Page where, we are happy to say, you can register and pay on line -- just click on the "Add to Cart" buttons on our Events page and Membership page. Questions or need more information? Call 862-325-7754.