Celebrating 29 Years of Wonder
Gingerbread Cookies
Send a dozen scrumptious 5" gingerbread cookies to a LOCAL HERO, teacher or friend for $30 (plus shipping).
We are delighted to announce that we have received over 40 entries for this year's Virtual Gingerbread Wonderland exhibit!!! Thank you to all who submitted a creation.
Voting began on Saturday, December 5 and will continue until Monday, December 28. The winners will be announced early in January.
The link to view and vote for your favorite (or favorites!) is:
https://arboretumfriends.org/virtual-gingerbread-voting
Viewing is free, but in order to vote, we ask that you make a donation (online as part of your viewing experience). This will help defray our Gingerbread Wonderland expenses. Thank you!
We encourage you to share the voting link with your family and friends, the more the merrier!
Four consecutive Saturdays: January 9, 16, 23 and 31 - 1:00 to 4:00 PM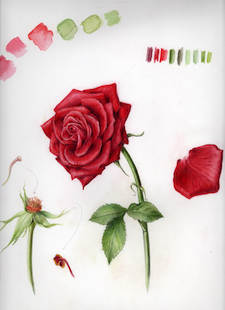 VIRTUAL ZOOM MEETING
Do you ever wish you could capture the details of a plant long after you've seen it? This introductory class teaches you how to make realistic drawings of plants using a variety of techniques. Learn to draw a selection of plant parts, including branches, stems, leaves and flowers, for pleasure or to expand your drawing skills.
Artist Katy Lyness is a passionate home gardener and teaches botanical illustration at the New York Botanical Garden. She has been represented in international exhibitions and is active in the Tri-State Botanical Artist Group. She received her MA in Art Education from Columbia University Teachers' College.
A materials list will be provided at registration.
Registration is limited to 16 participants.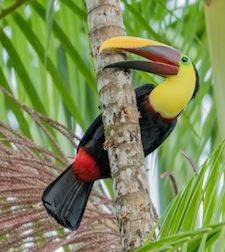 Sunday, January 10 - 4:00 PM
Join the Friends for a Virtual Tour of the Flora and Fauna of Costa Rica
Phil and Becky Witt are volunteer associate naturalists at New Jersey Audubon's Scherman Hoffman Wildlife Sanctuary, where they help lead photography workshops. Becky and Phil started as birders while in graduate school and have continued pursuing their love of nature by traveling from Antarctica to Tanzania to photograph the world's wonders.
This program will be a composite of a number of their trips to Costa Rica, a mecca for birders and nature photographers. Because of its diverse habitats, ranging from tropical lowlands to chilly 13, 000-foot-high mountains, the flora and fauna of Costa Rica are equally diverse. Please join Phil and Becky on this virtual journey of some of Costa Rica's natural wonders - You won't regret it!
Please note that registration for this event will close at 12:00 Noon on Friday, January 8, 2021.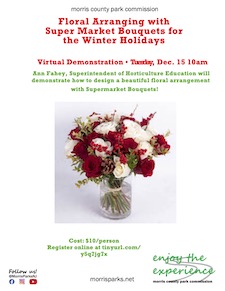 Floral Arranging with Supermarket Bouquets for the Holidays
Tuesday, December 15 - 10:00 AM
Click on Flyer for more information and to register.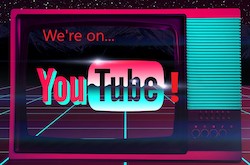 FRIENDS YOUTUBE CHANNEL
We are happy to announce that the Friends of The Frelinghuysen Arboretum now have a YouTube channel.
Please visit by clicking the image (or going to: https://www.youtube.com/channel/UCCwLu6l-05_VnSNQlkvi3Aw)
Once you have registered for "Composting and Eco-friendly Yard Care" or "Dahlias", you will receive a link to watch the recorded version.
When shopping at our fine Retail Partners, please remember to present your Membership card at the beginning of your check out transaction. Our Retail Partners need to enter the discount at the beginning of that process.
If you have not yet used this wonderful Member Benefit, you can view our full list of Retail Partners by clicking here.
Amazon Smile
Don't forget to "SMILE!"Amazon Smile, that is!
Amazon, through the AmazonSmile Foundation will contribute 0.5% of your purchases on Amazon to a charitable organization you select. Please consider selecting The Friends of the Frelinghuysen Arboretum as your designated recipient from this wonderful program.
Click here and log in to your amazon account to designate the Friends as your charity.
All our events can be found on our Events Page where, we are happy to say, you can register and pay on line -- just click on the "Add to Cart" buttons on our Events page and Membership page. Questions or need more information? Call 862-325-7754.