INTRODUCTION
The Friends held their Annual Meeting virtually last Sunday, with a presentation by Peter Nitzsche about growing Strawberries, followed by a Cooking Demonstration featuring a Strawberry Spoon Cake by Cynthia Triolo. Recordings of both will be available shortly if Members were unable to attend; both recordings will also be available to non-Members for a nominal fee.
As you may know, we are taking a short break this summer from virtual programming, but we'll be back in September - Check our website's Events page for September programs available now for registration.
Thursday, June 24 - 7:00 PM
VIRTUAL ZOOM PROGRAM
Figuring out who the beneficial insects are and who the pests are can be confusing.
Join Dr. Randi Eckel of Toadshade Wildflower Farm in Frenchtown, New Jersey, as she helps sort it out and discuss some management strategies that may help you strike the right balance.
Anytime in June
A RECORDED PROGRAM
Technically a vegetable, we've come to think of rhubarb as a fruit because of the way it's used in most kitchens. It became popular in England in the 19th Century when a new variety named 'Victoria' was introduced as a commemorative of Queen Victoria's coronation in 1837. Chef Cynthia Triolo will teach you some recipes, both old and new, that star this versatile vegetable/fruit.
Register now and receive the link and recipes for this recorded cooking demonstration.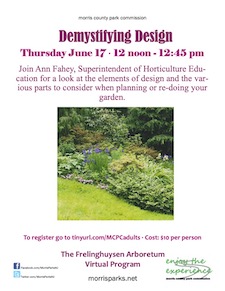 MORRIS COUNTY PARK COMMISSION PROGRAM
Demystifying Design
Thursday, June 17 - 12:00 to 12:45 PM
Click on the flyer for more information and to register.
The uncomfortable humidity of the last several days has left us and today's visit to the Arboretum was lovely. So many flowers blooming in shades of yellow, with different textures and shapes. Here are just a few: Echinacea paradoxa (Yellow Coneflower), Opuntia humifusa (Eastern Prickly Pear Cactus), Phlomis samia (Greek Jerusalem Sage), Telekia speciosa and visitor (Ox-Eye Hybrid) and Thalictrum flavum subspecies glaucum (Meadow Rue). I hope you enjoy these as much as I did.
Click an image to see them all in our website's picture gallery. Thanks to Margery Ennist for these weekly galleries.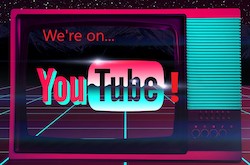 FRIENDS YOUTUBE CHANNEL
We are happy to announce that the Friends of The Frelinghuysen Arboretum now have a YouTube channel.
Please visit by clicking the image (or go to: https://www.youtube.com/channel/UCCwLu6l-05_VnSNQlkvi3Aw)
We are pleased to make several of our previously recorded events available in case you missed one or another of them.
When shopping at our fine Retail Partners, please remember to present your Membership card at the beginning of your check out transaction. Our Retail Partners need to enter the discount at the beginning of that process.
If you have not yet used this wonderful Member Benefit, you can view our full list of Retail Partners by clicking here.
Amazon Smile
Don't forget to "SMILE!"Amazon Smile, that is!
Amazon, through the AmazonSmile Foundation will contribute 0.5% of your purchases on Amazon to a charitable organization you select. Please consider selecting The Friends of the Frelinghuysen Arboretum as your designated recipient from this wonderful program.
Click here and log in to your amazon account to designate the Friends as your charity.
All our events can be found on our Events Page where, we are happy to say, you can register and pay on line -- just click on the "Add to Cart" buttons on our Events page and Membership page. Questions or need more information? Email Lisa Bencivengo: lbencivengo@arboretumfriends.net or leave a message at (973) 937-8803.