As previously mentioned, the Friends are taking a break from offering new programs during the months of July and August; however, there are many Previously Recorded programs available in the Events section of our website, from Cooking Demonstrations, to a talk on Strawberries, and the how to's of Composting, etc. Check them out, you just might find something to register for!
The link to the program will be sent to you when we receive your registration request.
We will be back in September with a program on Blooming Bulbs, a talk about Groundcovers and a virtual trip to visit the Late Summer Gardens of The Cotswolds. All of these programs are available for registration now on our website.
The link to these programs will be sent to you on the day of the program.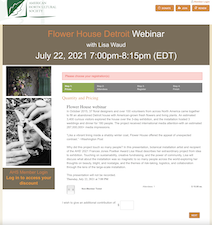 AMERICAN HORTICULTURAL SOCIETY WEBINAR
Flower House Detroit with Lisa Waud
Thursday, July 22 - 7:00 to 8:30 PM
In October 2015, 37 floral designers and over 100 volunteers from across North America came together to fill an abandoned Detroit house with American grown fresh flowers and living plants.
Click on the image for more information and to register for the story on how this fascinating exhibit came to be.
Every year the Friends of The Frelinghuysen Arboretum provide a grant to the Morris County Park Commission to purchase annuals to be planted in the two large beds leading up to the Wisteria arbor.
After several ordering glitches, the annuals were finally installed last week, including Zinnia, Cleome, Celosia (Cockscomb) , Annual Vinca (also known as Periwinkle) and Dusty Miller. The beds may look a little sparse now, but once established, the plants will spread, fill out and continue to bloom for the rest of the summer/fall.
Here are a few photos of the newly planted beds as well as a photo of the magnificent Trumpet Vine in full bloom.
Enjoy!
Click an image to see them all in our website's picture gallery. Picture credits: Margery Ennist.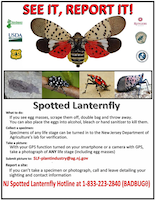 SPOTTED LANTERNFLY ALERT - IF YOU SEE IT, REPORT IT!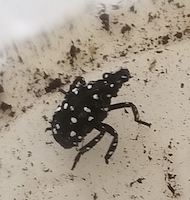 This invasive insect is spreading and it's very important to keep alert and report any sightings.
The Early Nymph stage has been seen in several areas of New Jersey (click photo to enlarge), so be on the lookout for a small, black insect with white spots; trap it and kill it.
If you see it, please report it; click on the flyer for more information and where to report it.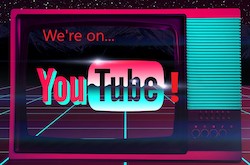 FRIENDS YOUTUBE CHANNEL
We are happy to announce that the Friends of The Frelinghuysen Arboretum now have a YouTube channel.
Please visit by clicking the image (or go to: https://www.youtube.com/channel/UCCwLu6l-05_VnSNQlkvi3Aw)
We are pleased to make several of our previously recorded events available in case you missed one or another of them.
When shopping at our fine Retail Partners, please remember to present your Membership card at the beginning of your check out transaction. Our Retail Partners need to enter the discount at the beginning of that process.
If you have not yet used this wonderful Member Benefit, you can view our full list of Retail Partners by clicking here.
Amazon Smile
Don't forget to "SMILE!"Amazon Smile, that is!
Amazon, through the AmazonSmile Foundation will contribute 0.5% of your purchases on Amazon to a charitable organization you select. Please consider selecting The Friends of the Frelinghuysen Arboretum as your designated recipient from this wonderful program.
Click here and log in to your amazon account to designate the Friends as your charity.
All our events can be found on our Events Page where, we are happy to say, you can register and pay on line -- just click on the "Add to Cart" buttons on our Events page and Membership page. Questions or need more information? Email Lisa Bencivengo: lbencivengo@arboretumfriends.net or leave a message at (973) 937-8803.