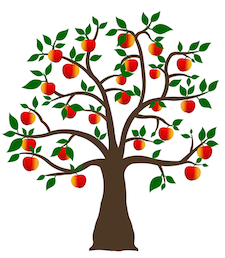 HOLD THE DATES FOR THIS YEAR'S 2021 TREE SYMPOSIUM!
Planning is underway for the fourth annual Tree Symposium - once again presented via Zoom. Speakers will present a range of interesting and informative conifer-related topics on four consecutive Tuesday evenings: November 2, 9, 16 and 23 at 7:00 PM.
Further information will be forthcoming on the Friends website and via the email blasts. Stay tuned!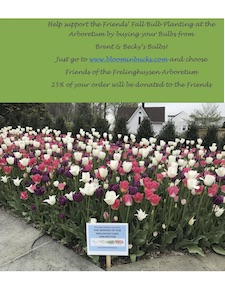 Help support the Friends' Fall Bulb Planting at the Arboretum by buying your bulbs from Brent & Becky's Bulbs!
Just click on the image to go to www.bloominbucks.com and choose Friends of the Frelinghuysen Arboretum.
25% of your order will be donated to the Friends.
This fundraiser runs through mid-November, so hurry and make your purchases and benefit the Friends at the same time. Thank you!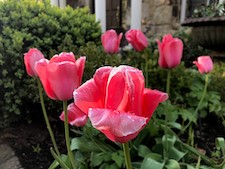 Thursday, September 9 - 7:00 PM
VIRTUAL ZOOM PROGRAM
This talk covers the extensive variety of flower bulbs that can be planted in the fall to ensure an exciting succession of bloom starting in the new year. Planting techniques will be covered, including how to force bulbs for indoor bloom. Emphasis will be on deer proof selections and successful combinations.
The program is free, but registration is required. The Zoom link will be sent to you on the day of the program.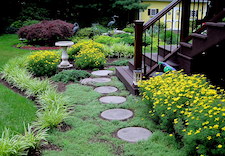 Thursday, September 23 - 7:00 PM
VIRTUAL ZOOM PROGRAM
Ground covers are no longer limited to lawns and Pachysandra. There is a plethora of choices from those that carpet the ground, to clumping plants and even small shrubs and hardscaping that can reduce labor intensive lawns, help to eliminate weeds, control erosion, add more color and year-round enjoyment to your landscape, and even cut down on constant mulch replacement. Enjoy gardening more with ground covers. Detailed handouts will be provided to assist in selecting, planting and care of ground covers.
The program is free, but registration is required. The Zoom link will be sent to you on the day of the program.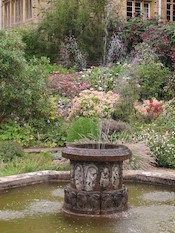 Fountain at Kiftsgate
Thursday, September 30 - 7:00 PM
VIRTUAL ZOOM PROGRAM
Escape for an hour with Judy Snow for a late summer tour through some of the outstanding gardens of Gloucestershire in England. We'll visit Prince Charles' gardens at Highgrove, Bourton House, Kiftsgate Court Gardens, Barnsley House, Abbey House, Sezincote, Hidcote and Sudeley Castle, as well as scenes from small private gems. This presentation (with photos by Jim Snow) is based on a trip organized by the Friends in September of 2015.
The program is free for Members and only $10.00 for non-Members. Click on the photo for more information and to register.
The Zoom link will be sent to you on the day of the program.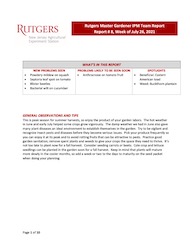 RUTGERS MASTER GARDENER IPM TEAM - REPORT #8
Here's the most recent report from the Rutgers Master Gardener IPM Team. Enjoy!
Click on the photo to access and read the report.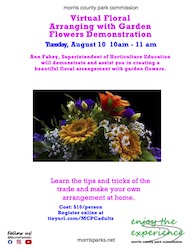 MORRIS COUNTY PARK COMMISSION PROGRAMS
Flower Arranging with Garden Flowers
Tuesday, August 10 - 10:00 - 11:00 AM
Click on the flyer for more information and to register,
The annuals planted several weeks ago are beginning to fill in and bloom profusely. These plantings were made possible by a grant from the Friends of The Frelinghuysen Arboretum to the Morris County Park Commission.
Here are a couple of progress photos of the colorful Zinnias, Cleome and Cockscomb flowers, along with a picture of the cool seed pods and foliage of Koelreuteria paniculata 'Rose Lanterns' (Golden Rain Tree). Enjoy and do plan to visit soon!
Click an image to see them all in our website's picture gallery. Picture credits: Margery Ennist.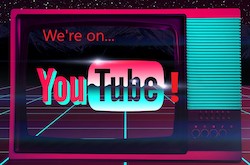 FRIENDS YOUTUBE CHANNEL
We are happy to announce that the Friends of The Frelinghuysen Arboretum now have a YouTube channel.
Please visit by clicking the image (or go to: https://www.youtube.com/channel/UCCwLu6l-05_VnSNQlkvi3Aw)
We are pleased to make several of our previously recorded events available in case you missed one or another of them.
When shopping at our fine Retail Partners, please remember to present your Membership card at the beginning of your check out transaction. Our Retail Partners need to enter the discount at the beginning of that process.
If you have not yet used this wonderful Member Benefit, you can view our full list of Retail Partners by clicking here.
Amazon Smile
Don't forget to "SMILE!"Amazon Smile, that is!
Amazon, through the AmazonSmile Foundation will contribute 0.5% of your purchases on Amazon to a charitable organization you select. Please consider selecting The Friends of the Frelinghuysen Arboretum as your designated recipient from this wonderful program.
Click here and log in to your amazon account to designate the Friends as your charity.
All our events can be found on our Events Page where, we are happy to say, you can register and pay on line -- just click on the "Add to Cart" buttons on our Events page and Membership page. Questions or need more information? Email Lisa Bencivengo: lbencivengo@arboretumfriends.net or leave a message at (973) 937-8803.