Pottery and gardening, CEU credits, squash, scarecrows, etc., read all about them below and please do sign up for these wonderful programs!!!
Thursday, October 14 - 7:00 PM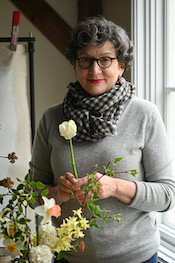 VIRTUAL ZOOM PROGRAM
Frances Palmer has been a potter and gardener for over 33 years and is known for her handmade functional ceramics. Her pieces have been carried by a variety of stores, including Barneys New York, Bergdorf Goodman and the Philip Johnson Glass House. Her work has also been featured in The New York Times Magazine, Vogue, Martha Stewart Living and House & Garden to name just a few. She lives and works in Weston Connecticut.
In her lecture, Frances will discuss her ceramics, informed by her Art History training and what inspires her work in earthenware, terracotta and porcelain. Adjacent to the studio are two large cutting gardens, which provide a continual flow of flowers for Frances' photography. All three aspects of her practice combine to produce her art.
In October 2020, Frances' first book, Life in the Studio, was published by Artisan Books. It comprises essays describing her ceramic and garden processes as well as her philosophical ideas about making a creative life.
Four consecutive Tuesday evenings: November 2, 9, 16 and 23 at 7:00 PM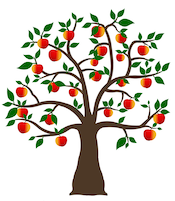 VIRTUAL ZOOM PROGRAM
PLEASE NOTE: You can sign up for each program individually, but if you register for all four programs at once, you will receive a discount. Members will pay $30 for all four programs and non-Members will pay $45 for all four programs, that's a 25% discount!
November 2: Bob Iiames: Conifers for Today's Gardens
November 9: Christie Dustman: Conifers as Living Sculpture
November 16: Robert LaHoff: Confers: Fastigiate & Dwarf Types ... Anything but Dull!
November 23: Ted Hildebrant: A Double Feature: Conifer Propagation Overview and What to Look for When Buying Conifers
More detailed program descriptions can be found on our website.
WE HAVE BEEN GRANTED CEU CREDITS FROM THE INTERNATIONAL SOCIETY OF ARBORICULTURE (ISA) FOR EACH OF THE TREE SYMPOSIUM PROGRAMS.
Anytime in October
A RECORDED PROGRAM
Join Chef Cynthia Triolo as she demonstrates how to make this delicious risotto using any type of winter squash. Best of all, learn the techniques for making risotto using other ingredients and flavors. It's the ultimate comfort food!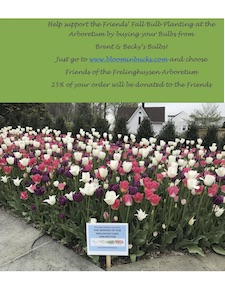 Help support the Friends' Fall Bulb Planting at the Arboretum by buying your bulbs from Brent & Becky's Bulbs!
Just click on the image to go to www.bloominbucks.com and choose Friends of the Frelinghuysen Arboretum.
25% of your order will be donated to the Friends.
This fundraiser runs through mid-November, so hurry and make your purchases and benefit the Friends at the same time. Thank you!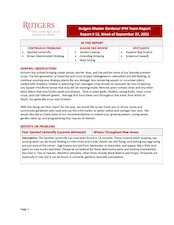 This is the last Report for the season from the Award-winning Rutgers Master Gardener Community Garden IPM Team. The report contains lots of information about the Saddlebag Caterpillar, distorted carrots, Allium Leaf Miner and more.
Click on the photo to access and read the report.
A brief history of scarecrows in America: Pilgrim families took turns guarding their fields against birds and animals, but as Americans expanded west, they invented new kinds of non-human scarecrows like wooden straw figures. Immigrant German farmers made human-looking scarecrows called "bootzamon", this word later changed to bogeyman; they were dressed in old clothes with a large red handkerchief around their necks.
During the Great Depression, scarecrows could be found all across America. (Brief history courtesy of Morris County Park Commission).
Visit the grounds of The Frelinghuysen Arboretum and see how many scarecrows you can find!
Click an image to see them all in our website's picture gallery. Picture credits: Margery Ennist.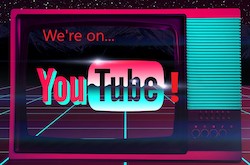 FRIENDS YOUTUBE CHANNEL
We are happy to announce that the Friends of The Frelinghuysen Arboretum now have a YouTube channel.
Please visit by clicking the image (or go to: https://www.youtube.com/channel/UCCwLu6l-05_VnSNQlkvi3Aw)
We are pleased to make several of our previously recorded events available in case you missed one or another of them.
When shopping at our fine Retail Partners, please remember to present your Membership card at the beginning of your check out transaction. Our Retail Partners need to enter the discount at the beginning of that process.
If you have not yet used this wonderful Member Benefit, you can view our full list of Retail Partners by clicking here.
Amazon Smile
Don't forget to "SMILE!"Amazon Smile, that is!
Amazon, through the AmazonSmile Foundation will contribute 0.5% of your purchases on Amazon to a charitable organization you select. Please consider selecting The Friends of the Frelinghuysen Arboretum as your designated recipient from this wonderful program.
Click here and log in to your amazon account to designate the Friends as your charity.
All our events can be found on our Events Page where, we are happy to say, you can register and pay on line -- just click on the "Add to Cart" buttons on our Events page and Membership page. Questions or need more information? Email Lisa Bencivengo: lbencivengo@arboretumfriends.net or leave a message at (973) 937-8803.