2022 FRIENDS PLANT SALE
Welcome spring and plan to shop at our Plant Sale!
Members Only Early Bird Shopping:
Friday, April 29 - 4:00 to 7:00 PM
Members may register for the Early Bird shopping by clicking here. Not a member? Why not join now on-line by going to our Membership Page and then register for Early Bird shopping.
Public Plant Sale:
Saturday, April 30 - 9:00 AM to 4:00 PM
Sunday, May 1 - Noon to 4:00 PM
Virtual Plant Sale
Shop now at our online plant sale featuring many special plants then pick your order up at the tent at the end of April. Shop early, as many of these plants sold out last year, and may not be available at our live sale. Take a look at our whole plant list here
Also: click here to register for a Zoom preview of this year's plant sale on Tuesday, April 5 at 7:00 PM.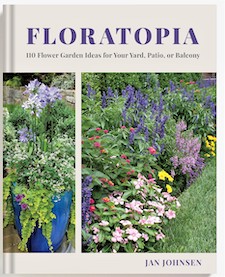 Thursday, March 24 - 7:00 PM
VIRTUAL ZOOM PROGRAM
Join Distinguished Speaker and Landscape Designer Jan Johnsen, as she shares her experience and contagious passion for flowers in her illustrated talk based on her new book Floratopia - 110 Flower Garden Ideas for Your Yard, Patio or Balcony. Jan offers illustrated tips and flower design suggestions. She underscores flowers' role as pollinator magnets and encourages combining grasses and flowers and using deer resistant selections. She stresses both perennials and annuals and gives recommended cultivars. Jan's aim is to ensure flower success for gardeners of all skill levels.
Jan is a principal of the award-winning Johnsen Landscapes & Pools firm based in Westchester County, New York and an admired garden designer and author. She taught at Columbia University for many years and still teaches at the New York Botanical Garden.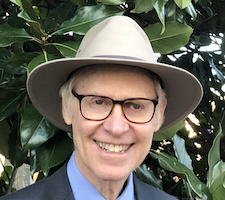 Thursday, April 7 - 7:00 PM
VIRTUAL ZOOM PROGRAM
Dr. Jon Greenberg, an agronomist and Biblical and Talmudic ethnobotanist, is familiar to many of us from his annual Biblical Botany walking tours at The Frelinghuysen Arboretum. In April, as Passover approaches, he will share insights from his research and from Fruits of Freedom, the Torah Flora Hagadah, his botanical guide to the Passover celebration published in 2021.
Dr. Greenberg will explain how every detail of the ritual Passover meal, or seder, carries deep theological meaning, from the choices of vegetables and recipes for the ritual foods to the use of red or green grapes to make the wine for the meal - he will also talk about table settings.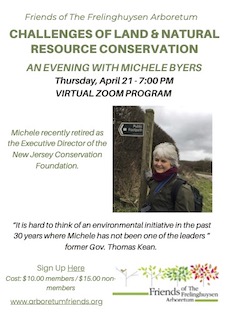 Thursday, April 21 - 7:00 PM
VIRTUAL ZOOM PROGRAM
Recently retired as Executive Director of the New Jersey Conservation Foundation, Michele Byers will review the status of New Jersey's land preservation program and share some of the planning tools used to identify important conservation lands; she will also discuss current threats to New Jersey's lands and environment as well as offer some solutions and proposed actions.
Ms Byers has a BA in Biology from Western State College, Gunnison, Colorado. She is the 2022 recipient of the Garden Club of America's Francs K. Hutchinson Medal, awarded for distinguished service to conservation, in recognition of her decades of work to conserve natural lands.
MORRIS COUNTY PARK COMMISSION PROGRAMS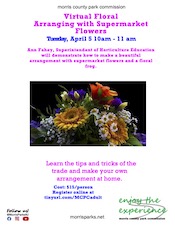 Virtual Flower Arranging with Supermarket Flowers
The Frelinghuysen Arboretum
Tuesday, April 5 - 10:00 - 11:00 AM
Click on the flyer for more information and how to register.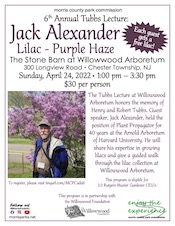 Sixth Annual Tubbs Lecture with Jack Alexander
The Willowwood Arboretum
Sunday, April 24 - 1:00 - 3:30 PM
This program is produced in partnership with the Willowwood Foundation.
Click on the flyer for more information and how to register.
A sunny, cool, blustery March afternoon at the Arboretum. The buds on the Edgeworthia chrysantha (Paper Bush) have opened into a lovely cluster of yellow and white flowers, Crocuses are popping up all over the grounds and the Prunus mume cv. Kobai (Japanese Flowering Apricot) is blooming beautifully against the white walls of the Carriage House. Make plans to visit soon!
Click an image to see them all in our website's picture gallery. Picture credits: Margery Ennist.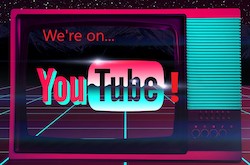 FRIENDS YOUTUBE CHANNEL
We are happy to announce that the Friends of The Frelinghuysen Arboretum now have a YouTube channel.
Please visit by clicking the image (or go to: https://www.youtube.com/channel/UCCwLu6l-05_VnSNQlkvi3Aw)
We are pleased to make several of our previously recorded events available in case you missed one or another of them.
When shopping at our fine Retail Partners, please remember to present your Membership card at the beginning of your check out transaction. Our Retail Partners need to enter the discount at the beginning of that process.
If you have not yet used this wonderful Member Benefit, you can view our full list of Retail Partners by clicking here.
Amazon Smile
Don't forget to "SMILE!"Amazon Smile, that is!
Amazon, through the AmazonSmile Foundation will contribute 0.5% of your purchases on Amazon to a charitable organization you select. Please consider selecting The Friends of the Frelinghuysen Arboretum as your designated recipient from this wonderful program.
Click here and log in to your amazon account to designate the Friends as your charity.
All our events can be found on our Events Page where, we are happy to say, you can register and pay on line -- just click on the "Add to Cart" buttons on our Events page and Membership page. Questions or need more information? Email Lisa Bencivengo: info@arboretumfriends.net or leave a message at (973) 937-8803.