Get Grass Out of the Lawn
Submitted by Webmaster on Thu, 02/14/2013 - 10:41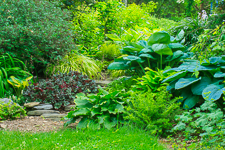 I hate lawns. I say, "Get grasses out of the lawn and into the garden!" Ornamental grasses are your friends. It is hard to duplicate the forms, textures, movement and color variation of ornamental grasses with any other plant. They come in all sizes, some are delicate and some are bold. Their colors change with the seasons and many continue to add interest throughout the winter. They add movement and sound to the garden.They play well with others both in the garden and in containers. Most ornamental grasses are deer resistant (bet that got your attention).
Lets look at a few example of garden worthy grasses:
Hakonechloa, commonly known as Japanese Forest Grass, is hands-down my favorite. Gracefully arching, it forms dense clumps in shaded areas, grows from 12 inches to 36 inches, changes color with the seasons and brightens up the shadiest corner. You can start with the basic green Haknoechloa macra, a dwarf growing only 2 feet with dark green blades that turn red in early Fall. Pair this with the bold leaves of Rodgersia or a ruffled-edge Heuchera. 'All Gold' Forest Grass has dramatic gold foliage that lights up the shady landscape. It looks great mixed with other perennials and is a star in containers (plant in the garden at Summer's end). Hakonechloa Fubuki, which means snowstorm in Japanese, has wide white margins and gets a pink flush when the weather turns cooler. 'Naomi' is a stunning cultivar with creamy yellow and green variegated leaves that take on a purplish red tone in Autumn.
Pennisetum 'Fireworks' and Pennisetum' Vertigo' are two annual grasses that are equally at home in either containers or the garden. 'Fireworks' is an upright grass, growing to 3 feet, with stripes of white, burgundy, hot pink and green growing up the blade. It is adorned with purple tassels in Summer. 'Vertigo' is spectacular when planted as an accent in the garden or a container specimen. The saber shaped blades grow to 3 feet tall and widen as they mature. They are so dark a purple as to appear black.
Pennisetum 'Karley Rose' is a perennial fountain grass growing 40 inches tall and has deep, finely textured blades that erupt into rosey flowers. This grass has great movement and blooms for a long period. It needs full sun and gives great textural interest to the perennial border. It also looks spectacular as a mass planting in a sunny area.
Panicum virgatum 'Heavy Metal' forms stiff upright blades to 4 feet in a metallic blue color. Flowering at the same time as goldenrod, it is an excellent companion to it. The blades turn yellow in late Fall and then tan. They can be left standing for visual interest during the Winter.
The photo at the top shows good use of Hakone grass in a mixed border with a dark leafed heuchera, ferns, various hosta, a dwarf Manchurian lilac (Syringa 'Miss Kim') and Sweetshrub, Calycanthus 'Hartlage Wine'.
== Sue Acheson, Plant Sale Co-Chair ==
Log in to post comments

3337 reads