Got Sun
Submitted by Webmaster on Mon, 04/23/2012 - 19:39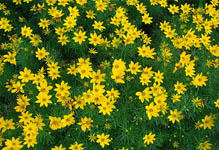 Coreopsis Zagreb
Full sun is usually defined as six or more hours of sun. Part Sun is three to six hours of sun. This is the simple answer but gardening is always a trial and error process and most of us haven't really timed the sun in each area of our gardens we are "guesstimating". Sun lovers will bloom more profusely if given the most sun possible. Remember that afternoon sun is hotter than morning sun when determining where to place your plants. The good thing about perennials is that given adequate moisture they are easily moved. So let the fun begin.
These are just a few of my favorites perennials for sun. You can trial them in containers for the Summer and plant them in the garden in autumn or give them a home in the garden right away.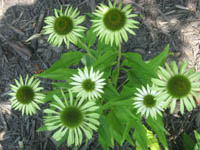 Echinacea Green Jewel
Coreopsis Zagreb bears bright yellow daisy-like flowers over compact threadleaf foliage for many weeks over the Summer. It will re-bloom if sheared back after the initial flowering thus extending its flowering period into early Fall. It is a great edger. It can also be used as filler in the border. This native plant is considered to be deer resistant. An oldie but goodie for the border.
Echinacea Green Jewel is another native coneflower that is only 24 inches tall so requires no staking. Plants are upright, 3-5 inches in diameter and long blooming. Light green rays surround a large green cone on this unusual color variation. Green Jewel does very well in containers or the border. It will bloom abundantly from mid to late summer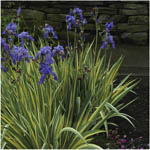 Iris Variegata
Iris pallida Variegata has soft blue flowers on top of green and cream striped leaves in the late Spring and early Summer. The flowers smell like grape soda delighting both children and adults who are compelled to take a sniff. The foliage remains attractive long after the flowers have faded. This is one sun lover I would not want to be without.
Lillium Casablanca is an easy to grow bulb that produces a profusion of bloom on 4-5 ft. tall stems in Summer. The flowerheads are huge, intensely fragrant and pure white. Fragrance in the garden and in the vase, Casablanca is an excellent cut flower.
Achilleas are classic flowers for the Summer border ranging in color from pale yellow to bright red to apricot or put more simply something for everyone. The foliage is silvery green and feathery. I always have Achilleas in my garden but my new favorite is Achillea Strawberry Seduction with large corycombs of tiny red flowers with yellow centers. The more sun the the more intense the flower color. It is sturdy, compact (18-20 in.) vigorous and long blooming. Works well in containers,too.
Be sure to ask our plant experts what their favorite sun loving plants are. You can identify them by the their bright red baseball caps. They all love to talk plants and can help you find the perfect combinations for your garden.
==Sue Acheson
Log in to post comments

2414 reads