Harbingers of Spring
Submitted by Webmaster on Sat, 02/16/2013 - 16:35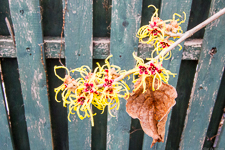 H. Arnold Promise
It is February 16. If you look out your windows what do you see? I see the Hamamelis varieties pictured here. Glowing in the winter sun like harbingers of the coming spring, they give me hope and fill me with joy. I cannot smell their subtle but intoxicating aroma from in here so they draw me outside where I can breathe in their fragrance and marvel at their quirky flowers. I already have three witchhazels but there are so many wonderful ones to choose from that maybe I need just one more.
Witchhazels grow in sun or part shade to about 15 feet, making them ideal for almost any size property. Many have excellent fall coloring in shades of yellow, orange or purple and their leaves are retained for much of the winter giving added interest in the landscape. Branches can be brought inside, where their ribbon-like flowers and gentle fragrance provide a much needed pick me up. They are also deer resistant.
Hamamelis "Arnold Promise' was the first one for me. It is an old and reliably floriferous and fragrant variety. Growing 15 feet tall it is upright. Like all of the witchhazels we offer it is budded on its own roots to avoid suckering which helps it retain its treelike shape.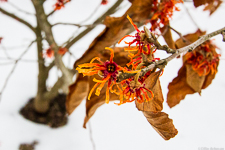 H. Jelena
I fell in love with H. Jelena at Longwood Gardens one cold February day and had to have one of my own. This award winning beauty has copper colored flowers in late winter and vivid fall coloration. She beckons from all the way across my garden and properly sited is the next best thing to a glorious sunset.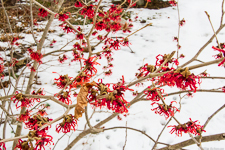 H. Diane
The reddest of the witchhazels is H. 'Diane' and she is such a fine specimen that she was awarded the PHS Gold Medal Award. Her fall coloration is a brilliant red and orange.
Please note that some of these fine witchhazels will only be available for order at our plant sale preview talk on April 20th at 1:00pm and not at the plant sale itself. The talk is free but we ask you to register in advance on the Events page. Checks,cash and credit cards will be accepted for pre-order plants.
== Sue Acheson, Plant Sale Co-Chair ==
Log in to post comments

2844 reads