Hellebores: Harbingers of Spring
Submitted by Webmaster on Tue, 02/25/2014 - 13:46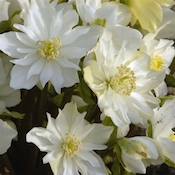 H. Winter Fashion
As I look out my window where I should see the fat buds of hellebores ready to burst open all I see is a blanket of white. These winter bloomers for shade gardens are harbingers of Spring's bounty and bring hope that Spring will soon follow. I guess I will have to wait a little longer, but while I am waiting I am going to take a look at what some of the newest offerings at this years plant sale will be.
H. Winter Fashion is a very floriferous white, double bloom with outward facing flowers.A long bloomer you can enjoy this plant for several months. Use it in shady beds or as a ground cover.The evergreen foliage looks good for most of the year.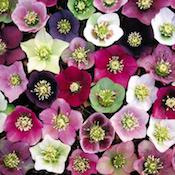 H. Royal Heritage strain
The Royal Heritage strain of hellebores are a mix of purples,reds, pinks, greens and whites. All of these colors blend well with each other. This is an easy to grow,low maintenance series that will grow in deep shade and like all hellebores is deer resistant.
H. Yellow Lady will bring sunshine to the winter garden. This clump forming beauty is a creamy yellow with a cinnamon throat that will bloom from March until May. This is a great naturalizer and although each new plant will be slightly different it is a great way to increase the numbers of hellebores you have in your garden.
For those of you who are craving the rarest of hellebore flower forms we offer H. TuTu, an anemone centered or semi-double form. The flowers are pink,with a green ruffle at the centre and speckled with dark pink spots.This plant is grown from tissue culture so each plant will be identical in color and form.
I don't think there is a "bad" hellebore but these are some of the very best. They are easy to care for, deer and rabbit resistant, grow well in shade and bring great joy to the winter weary gardener. You might want to put them on your "must have" list for the plant sale. I have.
==Sue Acheson
Log in to post comments

1307 reads