Herbs (Plus a Recipe)
Submitted by Webmaster on Thu, 03/06/2014 - 14:13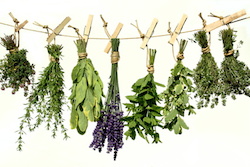 We have an excellent selection of culinary herbs at this year's Plant Sale, including 5 kinds of basil and 3 kinds of thyme!
In addition to clipping fresh herbs for cooking, why not use herbs in these ways:
Make an herb and oil infusion to spread on bruschetta (think: italian oregano and tuscan blue rosemary)
Make an herbal tea (think: chamomile)
Make a compound butter to spread on vegetables after you've grilled them (think: berggarten sage and english thyme)
Make a Mohito or other cocktail with herbs (think: mojito mint)
Make herb filled ice cubes and plunk them into a cold summer soup (think: italian leaf parsley and sweet basil)
Make an herbal vinegar to liven up a green salad or marinated vegetables (think: cilantro or tarragon)
And here is an Herb Butter recipe.
1 stick unsalted butter room temperature
1 tsp coarse sea salt
1 tsp freshly ground pepper
1/4 c. finely chopped basil, parsley, chives, oregano
Mix all ingredients until herbs are evenly distributed. Shape into cylinder, cover with plastic wrap and chill until firm.
Spread on grilled fish, chicken, or beef or vegetables like corn on the cob. Also wonderful on fresh baked rolls and bread.
Will keep in the refrigerator about two weeks.
==Lesley Parness
Log in to post comments

1349 reads