Looking Back On a Great Plant Sale
Submitted by Webmaster on Wed, 05/08/2013 - 14:16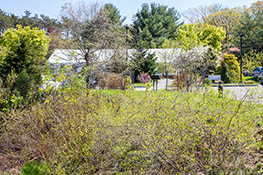 Just a week ago, volunteers congregated at the tent to begin work on the 18th Annual Friends Plant Sale. The Arboretum staff had already delivered the knocked-down shelving, so teams began work setting them units up. Soon, whirring screwdrivers and banging boards led to dozens of shelf modules filling the tent.
The first truckload of plants arrived that afternoon and was followed by several more trucks over the next two days. It rained a little and was cool, which was good for the plants. Volunteers and Arboretum staff pushed and pulled the racks to the tent where others emptied them onto the floor. The transformation was rapid, as plants were shuffled around, priced and eventually organized into the proper sections of the tent.
Nature's spring display at The Frelinghuysen Arboretum was wonderful, providing a great setting for our activities.
Friday afternoon finally arrived — the rain had been replaced by brilliant blue skies and the first of our members began to arrive for the Members-only segment of the sale. The plant material was spectacular and it flew to the cashier stands. Saturday was equally busy. Both days our plant experts were fully occupied answering questions and making recommendations. Other volunteers checked them out, ran the credit cards and helped load the cars.
Our Junior Master Gardeners occupied a corner of the tent offering a great selection of tomatoes, peppers and vegetable plants for sale. As alway, their enthusiasm and salesmanship was impressive.
Sunday wrapped up the sale, a little quieter as Sundays are want to be. Nonetheless, plenty of visitors to the Park came in for a quick visit and left with a plant (or two or three).
Everything is dismantled, now, but young and old, volunteers and shoppers were equally pleased to have been part of the 18th Annual Friends of The Frelinghuysen Arboretum Plant Sale. We hope we see you again next year and, as always, we thank you for your support.
Click here to go to an album of pictures from this year's Plant Sale.
Profits from the sale play a significant role in funding educational activities here at The Frelinghuysen Arboretum.
Log in to post comments

2907 reads