My Favorite Plant (Today)
Submitted by Webmaster on Wed, 04/03/2013 - 14:33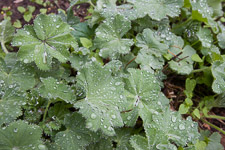 Lady's Mantel
My favorite plant today is an oldie-but-goody, Alchemella mollis. This deer-resistant, shade-loving perennial is commonly known as Lady's Mantel and bears frothy chartreuse flowers in May and June. My reason for growing this plant is its fuzzy, palmate, blue-green leaves that after a rain or on a dewy morning hold beads of moisture. I never cease to marvel a how the simple drops are so exquisite.
Alchemella moliis is about 18 inches when in flower but can be used as an edge to a border, a ground-cover or a single specimen. Flowers should be sheared off after bloom. Cutting back hard if the plant begins to look a little tatty will cause new leaves to form in about two weeks. It is a bit of a self-seeder but unwanted seedlings are easily removed.
This is one plant I cannot live without in my garden.
==Sue Acheson, Plant Sale Co-Chair==
Log in to post comments

2195 reads