Native Plants for our Gardens
Submitted by Webmaster on Sat, 02/25/2012 - 10:46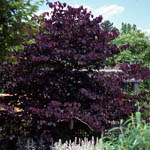 C. Forest Pansy
As a longtime home gardener, I am constantly educating myself on the environmental impact of our choices in plant material. Yes, I love my hostas and long-blooming annuals and all the flowers and foliage that make my garden look beautiful in the summer. But I become more and more concerned with the 'chain of life' of which we are all a part. The insects that provide food for our birds without which they could not exist. The pollinators, the beneficial insects, the butterflies, which rely on native plants for sustenance and procreation. The small mammals which use native plants as well for nutrition and nesting. Without our native plants, all can disappear. And are disappearing, at an unfortunately rapid rate.
Fortunately, we as homeowners can do something about this. There are many native plants which are admirably suited to our local conditions, provide sustenance to our fauna and are beautiful too. The severe storms visited on us late last year have created new planting opportunities in my own yard, and I'm sure in others too. Following are some of the natives I am planning on using as replacements for those recently departed trees and shrubs (some not so great a loss, I must say!).
Eastern Redbud (cercis canadensis) is a small to medium specimen tree, 20-35 feet tall, growing in full sun or partial shade. It thrives in moister sites but once established will tolerate drought. Redbud is is a showstopper in spring, with dense rosy-purple clusters of flowers on bare branches, followed by heart-shaped leaves in summer, turning yellow in autumn. There are many fabulous cultivars, including 'Forest Pansy' with dazzling purple leaves, and a new series with chartreuse foliage. Cercis Floating Clouds has an added bonus of green and white variegated foliage. These trees are wonderful massed or as single specimens.
Summersweet (clethra alnifolia) is a small rounded shrub, 4-8 feet tall and wide, also growing in full sun or partial shade. Moist soil is best but with a little extra care it will survive short periods of drought. It is a mid-summer bloomer, featuring white, very fragrant spiky blooms, much favored by butterflies. Several cultivars feature compact forms growing to only 3 feet (clethra Tom's compact).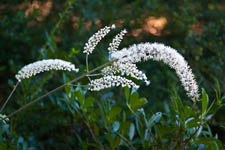 A. Hillside Black Beauty
Bee Balm (monarda didyma) a 3-4 foot sun-loving herbaceous perennial, is well known for its appeal to butterflies but is also a great favorite of hummingbirds. Its showy red and pink flowers will entice those active little birds to feed again and again. Underground stolons will provide an continual supply of more plants to transplant to other areas or to share with gardening friends. Among the many cultivars of monarda are 'Raspberry Wine' and 'Petite Delight,' the latter a shorter variety.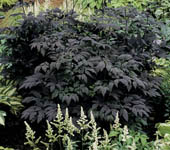 A. Hillside Black Beauty
Black Cohosh or bugbane (actea racemosa, formerly known as cimicifuga) is a tall (36-60" tall) perennial for partial sun or shade. The long white bottlebrush flowers are a spark of light in the shadier areas of the yard and the very fragrant flower spikes in mid to late summerdraw you into the garden. After the nectar-laden flowers go to seed, leave the stems for winter interest; I have seen chickadees land on a swaying branch to extricate a seed. There are pink-flowered( A. Pink spike) and black/purple leafed cultivars(A. Hillside Black Beauty) of bugbane available, making for a dramatic show in your planting beds.
Check the plant list to see what other natives will be available at the sale and be sure to ask our plant experts for help in your selections.
Sally Hemsen
Plant Expert
Log in to post comments

6228 reads