New Jersey Deer Control
Submitted by Webmaster on Tue, 01/28/2014 - 17:28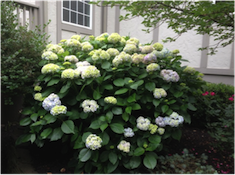 After NJDC Treatment
Our company, New Jersey Deer Control (NJDC), is a deer repellent spraying service. We use our own patented product and guarantee to protect landscapes from deer damage. We are deer repellent specialists with an extensive knowledge of deer and their habits, and we consider ourselves the leaders in the industry.
NJDC's proprietary repellent was invented by company President and wildlife biologist, Christopher J Markham. Years of research, experiments and field tests helped Chris create a superior deer repellent that he has used to protect landscapes since 2002. Since our repellent is made fresh daily it allows us to use ingredients that other store bought repellents cannot use. It is a natural product and is not considered a pesticide by state or federal regulatory agencies. Our repellent is extremely weather resistant, virtually odorless, and undetectable! Furthermore, it is environmentally safe, harmless to humans and pets, and will not damage your trees, shrubs or flowers. Most importantly, our deer repellent works and it has enabled us to achieve amazing results statewide!
NJDC prides itself on being experts in the field. Our owners, as well as each highly trained spray technician, are very knowledgeable in the biology, physiology and behavior of the white-tailed deer. When servicing your property, we blanket your entire landscaping with a fine mist of our product. In addition, we also pay particular attention to specific trees, shrubs and flowers that are more susceptible at particular times of year, depending on the season and weather conditions. In many instances, we try to blanket the perimeter of the property as well, including all entry points and commonly used trails, to remind the deer that your property is "off limits". Our knowledge, along with our management strategies will not only protect your landscape, but often times will help lessen the deer traffic in your yard altogether.
By using New Jersey Deer Control, you eliminate the need for expensive, unsightly fencing and you no longer have to worry about buying deer resistant plants. Our program allows you to open up your planting options to include some favorites that you thought you would never be able to plant again.
To prove how well our product and service work, we would like to make a special offer to any member of The Friends of The Frelinghuysen Arboretum. Just give us a call and we will schedule you for a FREE TRIAL APPLICATION. In addition, if you are happy with the results and would like to continue our service, you will receive a 10% discount off any subsequent applications. We look forward to hearing from you and hope to meet you at the Annual Plant Sale where we will be available to answer any of your questions.
| | |
| --- | --- |
| Before Treatment | After Treatment |
| Untreated | NJDC Treated |
| Untreated | NJDC Treated |
| Untreated | NJDC Treated |
Log in to post comments

7310 reads