2012 Plant Sale
NB Need Bottom Blocks for Blog & Fast Facts
The Plant Sale Is Over for This Year
The 2012 Plant Sale is fading into fond memorie of the plants, the volunteers, the wonderful visitors. We hope to see you at the 2013 Plant Sale.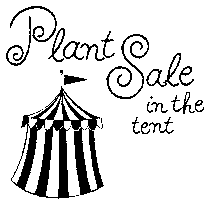 The Friends 17th Annual Plant Sale:
Planning for the 2012 Annual Plant Sale has begun under the able leadership of Plant Sale Co-Chairs Sue Acheson (her 14th year) and Ilona Ontscherenki (her 3rd year). Keep your eye on the website for updates as we select the plants and the themes for the Best Ever Plantsale! Click here for the On-line Plant List showing all the plants ordered for this year's plant sale.
One big change for this year is that we have extended the days, adding hours on Sunday to the usual Friday / Saturday lineup. We hope this makes the Plant Sale more convenient for our Friends given everyone's busy Spring schedules.
This is the largest plant sale in the area, featuring a wide selection of trees, shrubs, perennials and annuals from which to choose. Knowledgeable Plant Advisors (click here for more info) are ready to answer your questions and provide valuable information about the plants offered.
Proceeds from the Friend's Plant Sale support the Horticultural Education Department and provide programs for adults and children in all areas of horticulture at The Frelinghuysen Arboretum, Bamboo Brook Outdoor Education Center and Willowwood Arboretum.
Would you like to help out? Check out the Volunteers Sign-up Sheet.
Members 2012 Plant Dividends
As in past years, the annual Plant Dividends will be distributed at the Members-Only Plant Sale Preview Party. Click here to check out this year's selections.
Members may also pick their plants up at the Plant Sale Tent on Saturday, May 5 or Sunday, May 6 or at the Haggerty Education Center from May 7-11, 9am - 4:30pm.
Plant Sale Sneak Preview
Mark your calendars for Saturday, April 14 at 10:00am at the Arboretum's Haggerty Education Center for a sneak peak at some of the great plant selections found at the Friends 2012 Plant Sale. Sue Acheson and Ilona Ontscherenki, plant sale co-chairs, have selected their personal favorites, the hottest new plants as well as some plants that should reside in every garden no matter how grand or small.
This is a chance to get the scoop on some of this year's most sought after plants. You will get to see pictures of many of our best choices and get some cultural information as well.
There will be a select number of plants available for pre-order that day. These plants will be available for pick-up during the plant sale. Pre-ordering ensures that you won't be disappointed at the sale if your favorite sells out before you get to it. This was so successful last year that we decided to make it a permanent part of the sale. Pre-orders must be paid for at the time of ordering and we will accept cash, checks or credit cards.
The presentation is free but you must register in advance by calling 973-326-7603.