Perfect Perennials
Submitted by Webmaster on Thu, 03/15/2012 - 11:12
A One-Two Punch in the Fight against Deer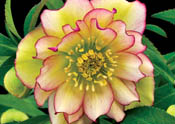 Hellebore Amber Gem
If you haven't discovered Amsonia yet, this is the year to do it! We're featuring two different native species and one or the other -- or both -- will become your favorite perennial by the end of the summer, not in small part because deer just stay away from both. Amsonia hubrichtii confidently bushes out to a 3 foot by 3 foot rounded clump of threadlike foliage that moves in waves with the breeze. In the spring, it sports pale blue flowers all over it's tips, resulting in the common name 'Blue Star'. Who doesn't like blue in the garden? It draws you closer and it makes every other color pop. A tidy filler for the rest of the season, it puts on another show at the end of fall, when it turns a glorious orangey yellow for several weeks. Amsonia tabernaemontana (sounds like Mormon Tabernacle choir) is the popular little brother, getting to be only half the height with just as much impact. Darker green leaves and darker blue flowers, it also blooms a bit longer and turns a nice yellow in the fall. 'Blue Ice' has just been named Perennial Plant of the Year by the Garden Club of New Jersey.
Anemone Robustissima
I love this plant and grow it all over my garden. It's a carefree wonder that spends most of the spring and summer as an attractive clump of grape leaf foliage. Allium look great growing up through it in June because of the way the leaves carpet their feet. Then, in August, it sends up tall 3-4 foot stalks of not-quite-hot pink daisy-like flowers in great profusion for about a month, followed by bobbing seed heads that eventually burst open with fluffy seeds. Bees love it -- the deer don't. Said enough?
A Hellebore is not boring -- except to deer!
Have you been out there this March, admiring all of your beautiful hellebores blooming in colors from white to yellow to red to deep purple? No? If you're missing the current show, come to the plant sale and choose from our wonderful varieties and you, too, will be cooing over your very own collection next winter. And you will not lose one to a deer or other critter (save a digging dog).
Hellebores are the perfect deer resistant plant for dry shade. They are low-growing clumps of the most amazing, long-blooming bell-shaped flowers borne over deep evergreen foliage. This year, we will have 'Josef Lemper' which has been blooming since November and is still going strong. There will be several doubles: deep purple 'Harlequin', two whites, 'Swirlin' Skirts' and 'Double Fashon' and a yellow 'Golden Lotus'. Then there's a dark purple named 'Onyx Odyssey' and another with variegated foliage named 'Pacific Frost'.
Come to the members' party or else they may be all gone if you wait too long.
Cimicifuga Simplified
Bugbane is such an easy, evocative name, but its botanical name had always been a challenge: cimicifuga. And then, it was moved to Actaea a couple of years ago. How many syllables do you pronounce in that genus name? Well, let's go back and look the plant itself. You really want to know it by any of it's names. In partial shade, lacy leaves range from green to bronze to purple, all delicately lobed. Above these nicely behaved clumps rise the most amazing erect plumes of sweetly scented feathery flowers any time from June into September, depending on the species. Most have white flowers, but two new cultivars we'll have at the sale have pink flowers. All rise 4-6 feet, to get that lovely scent right at you. A native of eastern woodlands, new cultivars just keep bringing more and more wonderful options to keep you in bugbane bliss all summer long!
Ilona Ontscherenki - Plan Sale Co-Chair
Log in to post comments

2643 reads