Plant Sale Over for This Year!
Submitted by Webmaster on Fri, 04/30/2010 - 10:01
Just a quick note: this year's Plant Sale was pretty terrific for all who participated. The weather cooperated, the experts were wonderful and it couldn't have taken place without all the great volunteers and visitors. Thanks to all and just wait till next year.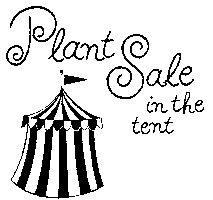 The biggest and best Friends Annual Plant Sale just got bigger and better AND IT'S THIS FRIDAY AND SATURDAY!
The tent is up and Plant Sale Co-chairmen Sue & Ilona and our wonderful Park Commission staff and volunteers have been busy all week receiving truckloads of plants. Sue says the plant material is more beautiful than ever and it will all be ready for sale Friday afternoon at 4pm at the Members-only Preview Party and Sale, followed by the Main Event public sale at 9am Saturday
While you are at the Arboretum, look around at the splendid plants in bloom. There is color everywhere, and you can get an idea of where your favorites are by looking at the What's in Bloom page, updated yesterday by volunteer, Phil Dahlen.
Log in to post comments

1038 reads