Poygonatum odoratum Variegatum (Variegated Solomon's Seal)
Submitted by Webmaster on Fri, 03/29/2013 - 15:39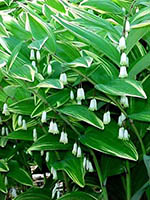 Polygonatum Variegatum
This is not only one of my favorites but it is the Perrennial Plant of the year for 2013. Each year the PPA chooses a plant that has outstanding value in gardens. These plants are voted on by the associations members and are judged for a wide range of hardiness,easy of growth, multiple seasons of interest and ease of propagation.
Variegated Solomon's Seal is an upright,arching plant for the shady garden. It blooms in early May and June with fragrant white bells that smell faintly like lily of the valley followed by dark blue fruits. The deep green leaves are edged in white and grow to about 2 feet.This North American native spreads slowly but not aggressively to form nice colonies. It is deer resistant.
Combine this with Ferns, Hosta, Brunnerra, Dicentra in a shady spot. Or it can be used as a ground-cover in the shade. Increase by dividing clumps every two to three years. It provides a strong architectural note in the landscape. In addition to being a favorite it is on my list of plants that I cannot do without.
==Sue Acheson, Plant Sale Co-Chair==
Log in to post comments

5802 reads