"Scentsational" Plantings
Submitted by Webmaster on Sat, 01/21/2012 - 17:45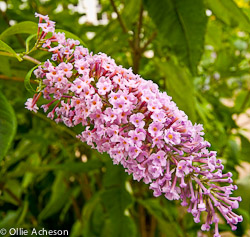 Lilac
Gardens are for pleasure. Designed to please you, the gardener. To delight with color. To entice with fragrance. To soothe the mind and refresh the spirit. A place to sit, to linger and to indulge the senses. A private space as well as a public place. It beckons you in, enfolds you and releases you refreshed, back to everyday living. Your garden is a sanctuary and a playground. It is not just an extension of the house but an extension of you.
One of your gardens' greatest pleasures is fragrance. A scent can carry you back to childhood, remind you of a first love, invigorate you, make you hungry, energize you or give you comfort. Think of lilacs in May. You can recall their heady perfume, even now, in the middle of winter, when their branches are bare. Imagine a hot Summer's day when the air is suffused with the fragrance of lavender. Its fragrance is warm, heavy and transports you to fields in Provence. It is a scent so loved that we make it into soaps, sashays, and lotions so that we can indulge year round. Brush the leaves of basil and soon your mouth is watering in anticipation of a Summer salad or pasta with pesto. Crush mint leaves and you'll be longing for an iced tea or a julep at the Kentucky Derby.
To this day gardenias bring me back to the corsage my father gave me one Easter, that my date gave me for the Junior Prom and the bouquet I carried at my wedding. I cannot pass one without gently sticking my nose in, I cannot resist buying them, even though I know my green thumb does not extend to the indoors. They always bring a smile to my face. Such is the power of fragrance.
And so this year we hope to entice you with fragrant plants. Trees, shrubs, perennials, herbs and annuals to envelope you in scent. Plants with fragrant flowers,or foliage, or even bark will find a place in your garden. A reason to go out in the garden morning and night. Remember some plants only release their fragrance in the evening. Perhaps you'll be inspired to plant a garden that gives you its best only after the sun sets. Or a garden filled with the sweet and pungent smell of herbs will be your cup of tea. An Angel's Trumpet in a container on your deck is an indulgence not to be missed.
Fragrance in the garden is so important and such a part of our lives that a cell phone tour will be taking place at the Frelinghuysen Arboretum this Spring and Summer to introduce you to the wonderful world of fragrant plants at the arboretum. Many of these plants will be available at the Friends plant sale and are noted on our on-line plant list.
Sue Acheson
Plant Sale Co-Chair
Log in to post comments

1328 reads