Shade Perennials for Every Garden
Submitted by Webmaster on Tue, 04/24/2012 - 20:00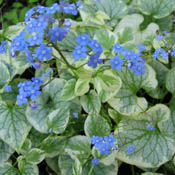 Brunnera Kings Ransom
On a hot summer day, there are few activities more satisfying than a meander among the plantings of my shade garden. The cooler colors and play of shadows in the textured foliage of these plants is a like a soft breeze flowing through the yard. Some of my favorite plants that contribute to this effect are:
Athyrium 'Ghost:' A cross between Japanese Painted Fern and Lady Fern, 'Ghost' has a gorgeous blend of silvery, pale green ferny foliage. At 18-30", it has height to give structure to the garden. In addition to the luminous glow it will lend to the planting bed, it has the advantage of being more tolerant of dry soil than its fern relatives.
Brunnera 'King's Ransom:' I can't wait to add this new plant to my garden. I have long been a fan of Brunnera Hadspen Cream and Brunnera Jack Frost. 'King's Ransom' with its unique textured foliage promises the beautiful cream-edged leaves of the former, covered with net-like white pattern of the latter. Add in the spring flowers of a lovely sky blue and you have a winner.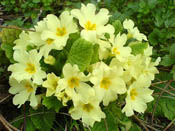 Primula vulgaris
Epimediums: What else to say other than they are as close to a perfect plant as it is possible to be. Lovely little groundcovers, tolerant of drought, resistant to insect, disease, predators. Spreading in a steady but non-aggressive fashion. Delicate spring flowers in a range of color choices. I will buy more, and more, and more.

Tiarella Brandywine
Primula vulgaris: In every garden we must have some 'heritage' plants: those that have been passed along from gardener to gardener and of which we never tire. The flowers of primula are a welcome sign that everyone recognizes as a harbinger of spring. The lettuce-like leaves that remain after flowering give a unique textural quality to every garden they inhabit.
Tiarellas: Another must-have, can't live without stalwart of the shade garden. Tiarellas are native to the Northeast. The leaves are deeply lobed and fuzzy, the plant sending sedate runners along the ground to give you more tiarella splendor. "Delaware" has purple markings on its large leaves, with foliage that turns a tawny color in the fall, persisting through the winter, until fresh new leaves and bi-color pink and white blooms appear again the next spring.
Oh, and did I mention? In addition to being providing wonderful visual interest to your garden, all of the above plants are HIGHLY DEER RESISTANT!! Go forth, plant and enjoy!!
==Sally Hemsen
Log in to post comments

2763 reads