Some Sunny Annuals
Submitted by Webmaster on Mon, 02/03/2014 - 10:59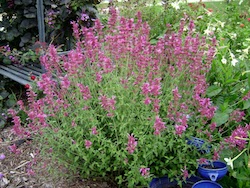 Agastache Heatwave
This year's plant sale will feature 3 terrific cultivars of annual Agastache, 'Grape Nectar', 'Raspberry Nectar' and 'Heatwave.'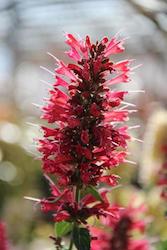 Agastache Raspberry Nectar
If you haven't tried them yet, they will certainly become one of your favorite summer plants. Agastaches are drought tolerant with a long bloom season from July to September. Their dense, colorful flower spikes are fragrant, excellent for cut flowers, and full of nectar which attracts butterflies, hummingbirds and beneficial insects. It's a member of the mint family so deer and rabbits will leave it alone.
Agastache Grape Nectar
Plant Agastache in full sun, in well-drained soil along with other good companions such as milkweed, ornamental grasses, yarrow, gaillardia and Russian sage.
PETUNIA 'GLAMOUFLAGE GRAPE': This great new 2013 introduction puts the pizzazz in petunia! You'll be WOWED by the striking contrast between its green and white wildly variegated waxy leaves and its big purple blossoms.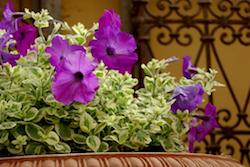 Petunia Glamouflage Grape
This petunia is heat tolerant and has a compact growth habit so plant it solo or edge a border, in a container or with other good companions such as purple fountain grass, 'Purple Majesty' ornamental millet, 'Limelight' licorice plant and 'Black and Blue' Salvia.
==Robin Morley, Perennial Chair
Log in to post comments

3521 reads