Thyme For A Talk
Submitted by Webmaster on Mon, 03/26/2018 - 09:43
About Herbs Before The Plant Sale?
Join us at 2 pm on May 4th at the Haggerty Center at Frelinghuysen Arboretum for a special, members-only gathering and an engaging talk by Caren White, AKA The Herb Lady, who will offer timely tips and lively lore about growing herbs.
Light, herb-themed refreshments will be served.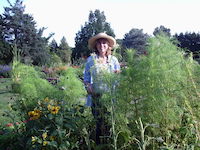 Caren White - click to enlarge
After a short program, Caren will help select herbs up at the tent, where attendees will have exclusive access to all the plants at our sale before we open to other members, who will be able to shop from 4-7 pm
Get ready for this year's 23rd Annual Plant Sale, Friday May 4th through Sunday May 6th.
See the Plant Sale Events, below, and also check out our Plant Sale Page.
$15 Members Only
ThumbPath:
/images/plantsale/plantsale2018/PlantSaleTeaTalk2018-th.jpg
LinkedTo:
/images/plantsale/plantsale2018/PlantSaleTeaTalk2018.pdf