A Treasure of Troughs
Submitted by Webmaster on Sun, 04/22/2012 - 19:11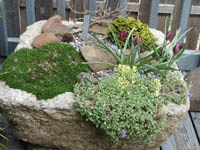 We are so lucky to have Brian Coleman sell his wonderful, creative troughs at the plant sale this year. And, once again, Brian is generously donating a planted trough to our raffle (reason enough to buy those raffle tickets, but the other prizes are equally terrific!).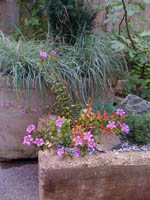 Brian makes hypertufa planters in a bunch of organic and formal shapes that are much more lightweight than concrete and also winter proof. Some photos of his troughs, emptied and planted are included here to entice you to try at least one yourself this year.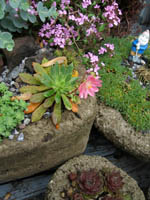 Last year, I wrote how I had planted up several of Brian's troughs, one with herbs for the sunny patio, one with mini hosta and epimedium for a shady corner of another seating spot. The herbs thrived all year, given the excellent drainage and heat retention of the hypertufa and all my perennials, including a couple of mini trees (a japanese maple and an aesculus pavia, both from last year's sale) all are welcoming the spring, with the hellebore and brunnera.
We have more than 200 different alpines and succulents suitable for trough planting at this year's Plant Sale.
==Ilona Ontscherenki
Log in to post comments

2356 reads