Tropical Temptresses
Submitted by Webmaster on Thu, 03/15/2012 - 11:29
Can't get enough Cannas this season!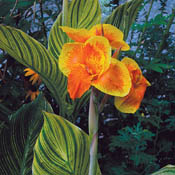 Canna Pretoria
The rage for tropicals in the landscape continues, further heightened by PHS featuring plants from Hawaii at the Flower Show this year. There's no easier tropical to grow than cannas. The leaves alone offer valuable structure and color in the garden: nice and big, intense color rising 3-4 feet and staying healthy looking all summer. Then, the lascivious blooms starting in midsummer, towering for weeks above the leaves. Ooo Ooo. In your flower bed or as a thriller in a big container, you need to plant cannas this year, Plus remember, you can just lift them up in the fall and store them for another year of color, so you're really investing in a perennial when you you bring one (or more, please) home.
This year, we've got three of the most beautiful, long-blooming cannas for you to drool over:
Australia, featuring lush burgundy leaves topped by deep red blooms. We know how burgundy/purple makes other colors pop, so this this canna will work for you all season. The deep red flower in the heat of summer will make you feel that your are in the islands somewhere, even on your own patio.
Pacific Beauty, with blue-grey foliage to contrast against your green plants, are topped with what Tony Avent describes as 'fluorescent pumpkin' blooms. Who isn't happy when they see orange in the garden? A sure lift in your container or summer border.
Pretoria, featuring the fanciest foliage of the three, with a chartreusey-yellow stripe that beckons you to come close. Who needs bloom with leaves like this? But the canna delivers a bright orange bloom that glows in your garden for weeks. Irresistible.
Everybody loves Baby Elephants -- especially their Ears!
We're featuring two spectacular new Elephant Ears, aka Colocasia, this year. Like the canna, these tubers are great eye-catchers in big pots or in your flower bed. They both grow to about four feet, like moist soil and can handle more shade than cannas. 'Blue Hawaii' has huge, heart-shaped leaves with striking purple stems and veining. Imagine riffing off of that purple with purple foliage plants and a few pops of blooming color to build a container design. 'Tea cup' is just that, its leaf reaches up to catch rain water and then elegantly offers it to passerby for a sip. A unique form for a colocasia that works both in containers and the border.
Shady Ladies
Coleus has been relied upon for some color other than green in the shaded garden since Victorian days, but today's new varieties are no reticent prudes. They're big, blowzy, giant leaved, wildly bright, and love the sun. They command attention smack in the center of any container or, if serving as a back up player, take a 10-minute solo improv. There's 'Big Red Judy' teetering up to 3 feet tall with confidence and 'Dipt n Wine' reaching almost as high with red scalloped leaves dolloped with yellow and edged in an eye-catching chartreuse. But wait, there's 'Trusty Rusty' (Is it really the names I love?) with foliage more on the coppery side and with yellow edging, and this year's winning name 'Fishnet Stockings' (beating out Actaea 'Black Negligee' from a couple of years ago), with a screaming green leaf heavily veined in deep purple. Take a deep breath, straighten your tie and escort some of these ladies home for some fun … in the garden.
Rock Star of the Tropics
Cordyline 'Red Star' needs no companions to be a sure hit in your container garden. This bold, burgundy-leaved wonder will grow to tower almost 6 feet and you will love the architecture and attitude she brings to recharge all your floppier foliage and flowers.
Brugmansia Mania
If we're featuring scent in the garden this year we have to have Brugmansia -- lots of Brugmansia. Commonly call Angel's Trumpet, there's nothing quiet about these girls. They are all life-sized tropical wonders you'll want tuck under your arm and take home. Keep them happy in full sun and by midsummer they will bear you huge pendulous flowers that envelop you in heady spiced perfumes during the evening. 'Betty Marshall' has white flowers, 'Insignus Pink' has -- guess. And 'Miner's Dream', clearly our most exotic with that name, has pink flowers on gorgeous green foliage edged in creamy white. For once, three plants doth a garden make in which to luxuriate once the sun goes down.
Yes, we do have Bananas!
What would a tropical container garden be without a huge muss? These easiest-to-care for plants keep growing and producing the most astonishing leaves all summer. Then hack them down low on the stem and bring them in for the winter and start the show all over again next year. 'Zebrina' is my favorite banana, with strong green leaves with gorgeous red blotches. It looks good with everything and amazing by itself with just a bit of ground cover edger. It takes wind well and doesn't get too tall, topping out at maybe six feet. 'Siam Ruby' also plays well with others, well, she can also slam dunk the winning point if she reaches 8 feet. Rich burgundy foliage flecked with green, she's a fine complement to 'Zebrina' and, I think, the 'go to' plant for that red you need to get all the greens in your garden to pop this year.
Stromanthe Tricolor
I absolutely love this tropical ginger. It's the first plant I bought on Maui and I've been planting it everywhere in the garden and potting it up as a houseplant. It goes anywhere in the shade and always looks great, while demanding very little in return except to 'please do not let me dry out'. Now we have this tropical charmer here at the sale for the first time and I must have more! It is the perfect container plant to bring amazing color to your shade garden. The beautifully shaped elongated and slightly glaucous leaves are streaked in creamy white; the undersides are a rich wine. Can you see this working with a lot of things or making a huge statement all by itself? You should, because it will!
Ilona Ontscherenki - Plan Sale Co-Chair
Log in to post comments

6140 reads