Wonderful New Annuals
Submitted by Webmaster on Sat, 03/23/2013 - 14:33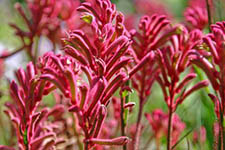 Angiozanthos Kanga Red
Sometimes gardeners come full circle and I have done that where annuals are concerned. When I first started gardening I went to a local nursery and loaded up on annuals. I was a wannabe gardener then and knew nothing except that I wanted a garden. I won't tell you what my choices were -- can you say gas station design -- but I can say that awful hodgepodge of plants gave me great joy. They did what they were supposed to and bloomed their little heads off all Summer long, but then I became a garden snob and annuals vanished from my wonderful border of perennials or my mixed borders of flowers and shrubs.
What I now know is that annuals are an essential part of the garden if you want bloom all Summer long, if you want to attract more bees and butterflies or if you want fabulous containers and you want big bang for your bucks. The annual that you pay $6.00 for in a five inch container at the plant sale in May will bloom (with a little care) into September or October costing you FIVE CENTS A DAY. How much was that last latte at Starbucks?
Now that you know what a great value annuals are let's look at some of the new and exciting things we have for you this year.
Angiozanthos Kanga Red or Kanga Yellow is a really cool annual from Australia. Commonly called Kangaroo Paw it has velvety flowers on 12-14 in plants with fine grass like foliage. It blooms from Spring well into Fall. Plant in full sun and do not overwater and combine with other plants that are drought tolerant.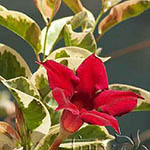 Mandevilla Fire and Ice
Mandevilla Fire and Ice is part of our commitment to give you plants with great foliage as well as flowers. Mandeville is an annual vine growing approximately 10 feet tall with trumpet shaped flowers that can be grown on a trellis in a large container. The 3 inch flowers are scarlet red and contrast nicely against the green and white variegated foliage. If you'd like something a little more subdued you might like the pink or yellow form with shiny green foliage.
Summer Snapdragons or Angelonia will add a cottage garden feel to borders or containers and give unbeatable landscape performance. Each variety is well branched and covered with flowers from Spring until frost. They add that great purple blue color that so many of us crave in our gardens. they thrive in New Jersey's heat and humidity and as an added bonus are deer resistant.We have several beautiful colors to choose from.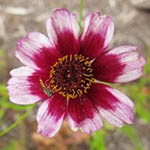 Coreopsis Mambo
The first annual Coreopsis come in an array of eye-catching colors on sturdy 15 inch stems and bloom all Summer long. You might try C. Limbo with its bright white foliage and bronze center or C. Jive with white flowers and a burgundy eye or if you're partial to pink C. Mambo is for you. I'm pretty sure these great coreopsis will have you dancing for joy. Deer don't like these either.
Another annual from New Zealand is Coprosma Midnight Martini is a small evergreen shrub ( it can come inside for the winter) with small dark jewel like leaves that change color over the season. Dark leaved plants can add great depth to your containers. Plant in full sun or part shade.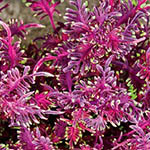 Coleus Bonefish
Coleus Bonefish is part of the Under the Sea Coleus collection and has deeply dissected leaves of bright fuchsia with a chartreuse edge, a mounding habit to about 18 inches in sun or shade. No matter how you look at it this plant falls into the thriller class. More than 15 different named coleus will be available. It isn't always about the flowers.
Another great plant for foliage interest is Farfugium aureomaculatum or Leopard Plant. Usually thought of as a house plant this beauty deserves a home outdoors in the Summer.Leaves that are 6 inches across are dark green with random gold and yellow spots. Daisy-like flowers bloom in early Summer. this is a plant that needs part shade or shade to be happy. It will brighten up any dark corner or be the main attraction in a container.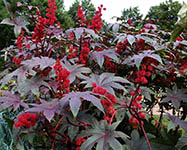 Ricinus Carmencita
Another popular plant for foliage interest is the trailing Helichrysum petiolare. Growing as long as 4 feet ,it looks great falling down the sides of a large container or in a window box. The leaves that feel like felt are silver-grey and combine with almost any other color well. This plant can add much needed texture to a container planting in full sun.
One more plant that really gives you bang for your buck is Ricinus Carmencita. This fast growing plant can reach a height of 6-10 ft. in a single Summer. Bronzy green maple-like foliage bears bright red flowers in Summer followed by equally showy red seed pods in Fall. it makes a great specimen in the garden or the wow factor in a container. Be aware that all parts of the plant are poisonous.
Please check out our on-line plant list to see the extensive variety of annual plants that will be available at the sale. We will have plant advisors available each day of the sale if you need help making selections.
==Sue Acheson, Plant Sale Co-chair==
Log in to post comments

2662 reads