A Workhorse in the Garden
Submitted by Webmaster on Tue, 03/12/2013 - 13:50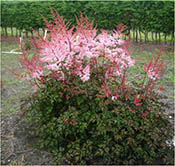 A. Delft Lace
Some plants just work hard and astilbies are one of them. They are low maintenance and long blooming. Their flowers range in colors from white to pinks to reds and their foliage may be dark green, red or bronze. With heights from 6 inches to 3 feet this is a plant that belongs in every garden. Planting several cultivars can provide a whole Summer's worth of blooms. They are bothered by few pests or diseases. They grow in part shade but if kept well watered they can take more sun. They are easily divided but do not require frequent division. They are deer resistant.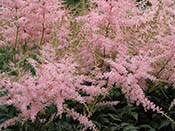 A. Hennie Graafland
Astilbe have lacy foliage, firm flowering stalks that require no staking and need no deadheading because the flowers fade in color as they dry and may be left to provide food for birds.
Here are some examples of the Astilbe we will have available at the sale:
Astilbe Visions in Red open from deep red buds on red stems to pinkish red flowers with bronze green foliage. It blooms in July and is 15 inches tall.
Astilbe Delft Lace blooms on lacy blue grey foliage in June and July with apricot pink flowers. Use them in groups, massed as a shady groundcover or singly in a mixed border. You can't go wrong.
Astilbe Hennie Graafland is a late bloomer in July and August, producing arching pink flowers over dark shiny green leaves. At only 16 inches this makes a great edger for a border. This and other Astilbe do well in containers and can then be transplanted into the ground in the Fall.
Astilbe Snowdrift blooms early with pure white flowers and finely cut foliage. It is an excellent companion for darker varieties.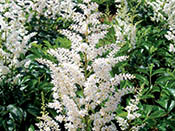 A. Snowdrift
This is just a sampling of the astilbe that will be available. They can be used in many ways in the garden. A mixed bed of astilbe, hosta and ferns is a visual pleasure from Spring until Fall. You can mass one variety as a ground-cover in a shady area where it will brighten the area when in bloom and provide textural interest when it is not. You can use astilbe in containers in the shady garden or patio and then plant them out in the garden to bloom for years to come.
Be sure to add these wonderful plants to your must have list.
Log in to post comments

3842 reads