The Year of the Heuchera
Submitted by Webmaster on Sat, 02/25/2012 - 10:50
The National Garden Bureau is calling for 2012 to be the year of the Heuchera. Commonly known as Coral Bells, Heucheras have been popular since the 1700's because of their ease to grow, adaptability and good looks. They are hardy to zone 4 and considered to be deer resistant.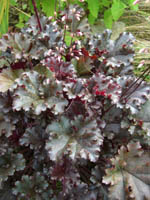 H. 'Dark Secret'
In recent years breeding programs have developed Heucheras for sun and shade in a fabulous array of foliage colors from dark burgundy to peach, plants with silvery overlays,coppers and oranges. Heucheras can provide wonderful color in your landscape and foliage that gives non-stop interest. We are offering a dozen of the best at the Friends Plant Sale.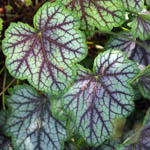 H. Green Spice
Heucheras can be used in the border as edging plants, specimans or fillers. They can be grown in containers for the Summer and planted in the garden that Fall. They combine well with Brunnera, ferns,grasses,Coreopsis---well, with just about anything. There are Heucheras for partial to full shade locations like Heuchera Green Spice with a silver overlay on green leaves and delicate ivory flowers in May and June. Or Silver Scrolls which is quite sun tolerant with maroon foliage frosted in silver and it forms good size clumps in the garden. Heuchera Big Top Gold is not for the faint of heart with orange foliage and red undersides. it produces masses of blossoms and large 24 inch wide clumps.
Heucheras are easy to grow in good soil and adequate moisture. Prune old foliage back in the Spring because the foliage protects the crown during winter freezes. Divide every three years to keep the plants vigorous.
Every garden can be made more beautiful with the addition of Heucheras and this is the year for you to add some to your garden.
Sue Acheson
Plant Sale Co-Chair
Log in to post comments

3873 reads