Friends of The Frelinghuysen Arboretum
Welcome to the Friends Website
DONATE TO THE FRIENDS
YOUR SUPPORT IS NEEDED! - learn more about us by reading below, then click the Donate button to give using a credit card.
CORONAVIRUS ANNOUNCEMENTS
GARDENS REOPENED
The Morris County Park Commission has reopened the three horticulture parks with the following schedule: (their weblink here)
| | |
| --- | --- |
| Frelinghuysen Arboretum | Mon - Fri, 8am to dusk. |
| Willowwood Arboretum | Mon - Fri, 8am to dusk. |
| Bamboo Brook Arboretum | Mon - Fri, 8am to dusk. |
Parking may be limited. All buildings will remain closed. Portajohns will be available.
All park patrons are encouraged to follow social distancing guidelines. Wearing masks is also recommended.
We will keep you posted as further updates become available.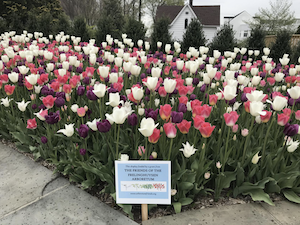 Help support the Friends' Fall Bulb Planting at the Arboretum by buying your bulbs from Brent & Becky's Bulbs!
Just click on the image to go to www.bloominbucks.com and choose Friends of the Frelinghuysen Arboretum.
25% of your order will be donated to the Friends.
Learn About the Friends
Building Community Through Horticulture -- Engage, Enrich, Educate
Through their continuing commitment and volunteer efforts, The Friends of The Frelinghuysen Arboretum foster and develop public awareness, knowledge and enjoyment of horticulture and the natural world, and of course, help to preserve and maintain the beauty of this most valued community and regional resource, The Frelinghuysen Arboretum.
Be sure to view our Gallery and Resources links which are updated regularly (see the menu at the top of every page).
Go really green and sign up for the electronic version of the Arboretum Leaves to be delivered to your email inbox. Just follow the instructions found in your paper Arboretum Leaves.
Finally, sign up for our weekly Email Blast by clicking here.
How to Keep Up With the Arboretum
Cancellations
We hate to see you miss a program you have signed up for, but we know things do happen.
If you are new to the Frelinghuysen Arboretum, keeping up with all the activities may seem daunting. Here are a few suggestions:
Browse our website regularly. We work hard at updating it regularly.
Look especially at our Events Page which changes regularly. It provides a detailed listing of programs scheduled for the next few months, including facilities for scheduling and purchasing on-line.
Become a member -- one of the many benefits is a regular newsletter, Arboretum Leaves available either in paper or pdf. See below for link.
Sign up for our regular email newsletter.
Non-Profit Status
The Friends of The Frelinghuysen Arboretum received acknowledgment from the US IRS of its non-profit status under Section 503(c)(3) in 1978. See this letter and recent annual filings (Form 990s) on our About the Friends page.
Other Items of Interest
The website is quite extensive, providing information about both the Friends and the Arboretum, a detailed Events Calendar plus helpful details for planning your visit. Use the navigation links at the top of every page. The "Home" button will bring you back to this page.