Quick Reference Facts:
The Frelinghuysen family built their summer home in 1895 on the grounds of the present-day Frelinghuysen Arboretum.
George Griswold Frelinghuysen
– Born: 1851 in Newark
– Graduated: Rutgers and Columbia Univ. School of Law
– Married: Sara Linen Ballantine of Newark, 1881.
– Career: Patent lawyer; President of P. Ballantine Brewing & Co. 1905 until retirement.
– Died: New York City 1936
Sara (Ballantine) Frelinghuysen (Mrs. George Griswold)
– Born: 1858 in Newark
– Children:
…Peter Hood Ballantine (H.B.) (1882-1959)
…Matilda Elizabeth (1887-1969)
– Died: 1940
Architects: Rotch & Tilden, Boston
Landscape Architect: James MacPherson, Trenton
House was always a summer house, even for Matilda. They owned a townhouse in NYC.
Matilda left Whippany Farm to Morris County Park Commission (MCPC) in 1969; dedicated as Frelinghuysen Arboretum in 1971; put on national Register of Historic Places in 1977.
---
MCPC was created in 1956.
There are 7 commissioners, appointed by the Board of County Commissioners, who represent the entire county and hold 5 year terms.
MCPC owns over 19,000 acres. The Frelinghuysen Arboretum is 127 acres.
MCPC is recognized as one of the best park systems in NJ and is considered a leading park system in the nation.
Maps of the Grounds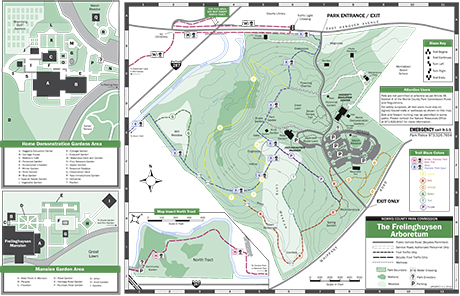 Click on the image at right to open the map.
History
George G. Frelinghuysen, a patent attorney and son of Frederick T. Frelinghuysen, Secretary of State under president Chester A. Arthur, was married in 1881 to Sara Ballantine of Newark. She was the granddaughter of the founder of the P. Ballantine Brewing Company.
In 1891 the couple commissioned the Boston architectural firm of Rotch & Tilden to construct a summer home and carriage house on property they named Whippany Farm for the river nearby. The Colonial Revival style is evident in such details as the Federal urns and swags, Ionic columns on the porte-cochere and the large Palladian window on the second floor landing.
The family only lived here during the summer months. In the winter they resided at 1 Sutton Place in New York City. The property was a working farm. Vegetables and flowers were grown for the family's consumption and sent to them in New York City via train. There were greenhouses, several barns and some smaller houses on the property. Some servants lived on the property year around.
George Frelinghuysen died in 1936 and Sara Frelinghuysen died in 1940. This property was left to their only daughter, Matilda (1887-1969). Miss Frelinghuysen had an interest in gardening and was a member of the Garden Club of Morristown. In 1964, she began plans for turning the estate into an arboretum. Upon her death the land and house was bequeathed to the people of Morris County for the use as a public arboretum. The Frelinghuysen Arboretum was dedicated in 1971.
The Haggerty Education Center was opened in 1989. It contains a multi-purpose auditorium and two classrooms. Its purpose is to provide continuing horticultural educational programs for the public. It is also home for various regional plant societies.
Pictures courtesy of the Morris County Park Commission.