2023 Plant Sale
The Friends of the Frelinghuysen Arboretum invite you to our Annual Plant Sale on the first weekend in May.
As in past years, there will be special early shopping — plus refreshments, door prizes and a plant dividend — for Members Only on Friday evening from 4:00 PM to 7:00 PM. Registration is now FULL. Reserve a spot on our waitlist – Register here
Throughout the sale you'll be able to get advice from local plant experts and to select from a huge variety of houseplants, annuals, perennials, shrubs, and trees. Preview the sale by signing up for free Zooms every Tuesday evening during the month before the sale. Details on our Events Page.
Four Master Gardener talks via Zoom on Tuesday evenings at 7:00 PM:
Volunteer Opportunities
Want to get involved and learn more about the plants at the sale? Volunteer to help us set up May 1-5 and during the sale May 5-7. See all the opportunities and sign up HERE.
---
Many thanks to everyone who shopped at our 2023 Plant Sale last weekend (May 5-7, 2023); it was great to see you all there!
A great big heartfelt thank you to all of the wonderful volunteers who made sure everything ran smoothly before, during and after the sale. We couldn't ...
Read more...
---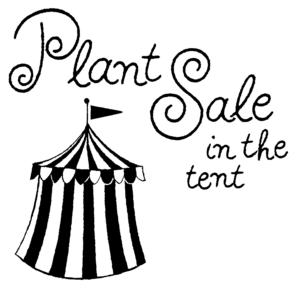 So many plants and so little time! Here's the link to the list on Google Sheets.
Once again, we couldn't restrain ourselves and have ordered over 400 different plant varieties so far for the upcoming sale.
Read more...
---
Pictures from past Plant Sales in the Tent.
Read more...
---
plantsale.php