Building Community Through Horticulture
Engage, Enrich, Educate
Membership Benefits
Besides supporting all the entertaining and educational programs sponsored by The Friends of The Frelinghuysen Arboretum, your membership also includes the following benefits: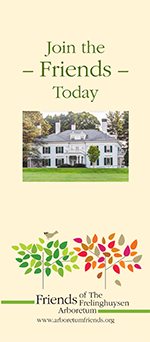 Reduced program admission fees.
Discounts from our Retail Partners.
Free or discounted admission to over 300 reciprocal gardens throughout North America and the Cayman Islands through The American Horticultural Society's Reciprocal Admissions Program. Click here for all the information about this great AHS benefit. Also, read this article by Sally Hemsen discussing just how valuable this benefit is.
Free admission to Member Only Events.
Arboretum Leaves, our newsletter, 4 times per year.
Weekly email blasts.
A yearly "plant dividend" usually available at our plant sale. More information here.
Garden Lovers Book Club membership.
Support for an annual scholarship to Morris County Community College students in the Landscape Technology Program in honor of Benjamin C. Blackburn via participation in the annual Blackburn Scholarship Lecture.
Advanced plant purchases before the general public at the Annual Plant Sale Members-only Preview and Sale.
The satisfaction of supporting the activities of one of the finest horticultural parks in the northeast.
Need more reasons? Want to know what the different membership levels are all about? Click on the brochure at right.
Ready to join? You can do it any of three ways:
Click on the brochure at right for an easily printable coupon that you can mail in,
Email info@arboretumfriends.net or leave a message at 973-937-8803, or
Best of all, use the PayPal buttons below for fast, easy, on-line processing.
Membership cards will be emailed to you unless specifically requested otherwise (lbencivengo@arboretumfriends.net or 973-937-8803). New and Renewal Memberships take 7-10 days to process.
Admission to the Frelinghuysen Arboretum is free.
| | | |
| --- | --- | --- |
| New Membership | Renew Membership | View Your Cart |
Questions?
See also these related pages: