Sunday 06-14-20 12:00 am (Eastern) 2:00p - 4:00p
Location: Haggerty Center
FILLED
Gardentopia: Design Basics for Creating Beautiful Outdoor Spaces
by Jan Johnsen June 14th at 2 p.m.
This is a Members Only Event. RSVP by 12:00 p.m. on June 12th to be sent a link to attend the event via Zoom. Please email lbencivengo@arboretumfriends.net with any questions.
USE THE BUTTON BELOW TO REGISTER ON-LINE.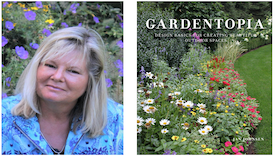 Join the Friends of The Frelinghuysen Arboretum for our first ever Virtual Annual Meeting! Spend a fascinating and idea-filled afternoon with NY designer Jan Johnsen as she shares highlights from her recently published book: Gardentopia.'Äã Find out how you can shape your own yard to combine the art of landscaping with ecological awareness. Jan's inspiring presentation will have you seeing all the possibilities your garden areas offer. By utilizing such ideas as "hide and reveal", "lure of the sheltered corner" and "principle of three depths" you can make your outdoor space a place of beauty and delight. Plant Lists will be available.
Jan has designed beautiful landscapes around the world over the past four decades and has lectured widely on her work. She also has taught at Columbia University and the New York Botanical Garden. Gardentopia is her third acclaimed book. You can learn more about Jan and her work at 'Äãwww.johnsenlandscapes.com'Äã and follow her blog at serenityinthegarden.blogspot.com or her page on 'ÄãFacebook'Äã.