Sunday 09-20-15 12:00 am (Eastern) 1:30p - 4:30p
Location: Haggerty Center
FILLED

A good gardener's library is sure to include Ms. Clausen's first book, Perennials for American Gardens. Now, 25 years later, Ruth has written another soon-to-be classic recently published by Timber Press – Essential Perennials! Anyone who loves perennials will benefit from attending this talk.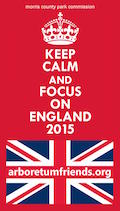 Trained in the UK, Ms. Clausen lectures widely and was Horticulture Editor at Country Living Gardener for many years. This program is part of The Frelinghuysen Arboretum's year-long Focus on England, but the plants Ruth highlights are all perfect for New Jersey gardens!
This program is eligible for 3.0 Rutgers Master Gardener CEU's.
Register by September 13.