Tuesday 06-20-23 07:00 pm (Eastern)
Location: Virtual Via Zoom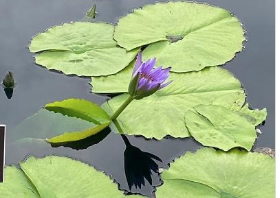 Water gardening opens up a whole new world of planting and landscaping possibilities. Water in the garden, whether in a container or small pond, helps to create a tranquil and peaceful atmosphere. Many aquatic plants can be grown in a tub of water on a deck with fountains and fish or in small preformed ponds.
Learn about plant selection, containers, planting depths, light requirements and the wild creatures that will be attracted to your living space, bringing serenity and peace.
This program is eligible for 1.0 Rutgers Master Gardener CEU.
Free, but registration is required by 4pm on the day of the program.