While the Friends use PayPal as their credit card processor, the does not lock our visitors into having to sign up for a PayPal account. Following are screenshots and explanations for how to do so both for checkout of event purchases as well as for donations.
Shopping Cart Checkout
After you have clicked on PayPal buttons for various events on our Events page, your selections are stored in a shopping cart like the one at right (click on it to enlarge the image).
Two buttons are shown, "PayPal checkout" and "Check Out Pay without a PayPal Account." Click on the latter button.
PayPal may recognize you as an account holder and offer to log you in.
Click ESC (the Escape key) to clear that and expose the alternative route link below.
So here is the screen after clearing the login information.
Click the "Try another way" link to reveal the next screen.
Finally, click "Pay with Debit or Credit Card" to reveal the final screen in our journey.
Obviously, PayPal would prefer our paying with a PayPal account.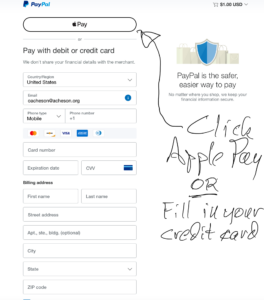 On this screen we can either select paying with ApplePay (the button at top) or filling out the form with our credit card information and paying with that.
Either route leads to payment for the balance in our shopping cart and generation of a confirming email.
Donations
After clicking the Donate button, the screen at right opens.
Fill in the Amount field, then click the second button, "Donate with Debit or Credit Card."
This screen captures Special Instructions, as, for example, "In memory of" or similar information.
Then fill in the credit card details and click the "Donate Now" button at bottom.
No ApplePay option is offered.