Tuesday 11-23-21 12:00 am (Eastern) 7:00 PM Eastern time
Location: VIRTUAL ZOOM PROGRAM
VIRTUAL ZOOM PROGRAM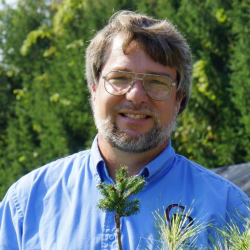 Registration for this session is now closed but you can still register to receive a link to the recording when it is available. Please note that this offer is good only until December 31.
Ted Hildebrant is a third generation nurseryman and propagator. Ted and his life partner Elly Keyel, own and operate Coldwater Pond Nursery, a specialty woody plant propagation nursery in Phelps, New York.
Ted will present a pair of mini-lectures, starting with a look at how conifers are propagated. Specific methods, including propagation by seed, cuttings and grafting will be reviewed and will include techniques you can use in your own garden. The second half of the presentation will cover what to check for and pitfalls to avoid when shopping for that perfect conifer for your landscape. You will learn how to tell a good graft union from a bad one as well as get an understanding of any pests or issues to watch out for on your prospective conifer purchase.
Registration for this session will close at 2pm on the day of the event. The Zoom link will be sent to the email address used at registration unless you notify mennist@arboretumfriends.net otherwise.
THIS PROGRAM IS ELIGIBLE FOR CEU CREDITS FROM THE INTERNATIONAL SOCIETY OF ARBORICULTURE (ISA).
This program is eligible for 1.0 Rutgers Master Gardener CEUs.
Questions? Contact mennist@arboretumfriends.net or lbencivengo@arboretumfriends.net.