Tuesday 02-28-23 07:00 pm (Eastern)
Location: Virtual Via Zoom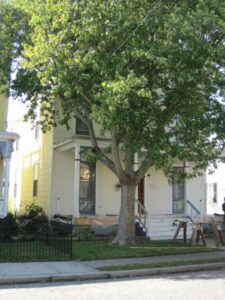 In this presentation, Master Gardener Gail Di Domenico, covers hardiness zones, soil pH and conditions, light exposure, plant characteristics, features and attractions. Information on trees, shrubs, perennials, vines, ground covers, bulbs and annuals will be provided, along with many photos and suggestions (in the photo to the right, the large tree is too close to the house). Whether you are hiring a professional or doing it yourself, planting an expensive tree or a tiny annual, it pays to be in the know to protect and increase the value of your landscape investments. Proper selection and techniques save time, money and labor and add to gardening enjoyment.
This program is eligible for 1.0 Rutgers Master Gardener CEUs
Registration will close at 4:00 PM on the day of the program.
This program will not be recorded.
Free to all, but please register here