Sunday 02-06-22 12:00 am (Eastern) 4:00 PM
Location: VIRTUAL ZOOM PROGRAM
FILLED
VIRTUAL ZOOM PROGRAM
Even if you're unable to attend, please consider buying a ticket, as all proceeds from this program support the scholarship that's offered to students in the Landscape Technology Program at County College of Morris. Thank you.
NATIVE PLANTS – DESIGNING TO ATTRACT WILDLIFE with Bruce Crawford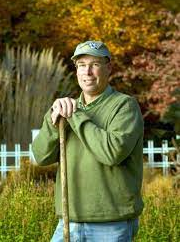 There has been a tremendous surge in the use and interest in native plants. These plants are great for our many beneficial insects, offering leaves and pollen to eat and stems in which to overwinter. The challenge is how to organize these plants such that they provide an attractive garden for your home. Bruce will share his thoughts, starting from the ground up, on how to combine these plants into cohesive and attractive designs for your garden.
A longtime proponent of unusual and fun plants, Bruce had his own design/build gardening business for nearly 25 years, specializing in plantings for year-round interest. One of those gardens was published in Fine Gardening Magazine. From 2005 to 2020, Bruce was the Director of Rutgers Gardens, the botanical garden at Rutgers University, and from 2020 to 2021, he was the State Program Leader for Home and Public Horticulture with the New Jersey Agricultural Experiment Station. He was also an instructor in the Landscape Architecture program at Rutgers University from 1987 to 2020. Currently, Bruce is the Manager of Horticulture for the Morris County Park Commission. He lectures frequently to various groups and has yet to find a plant he does not like!
Registration for this program will close at 12:00 Noon on the day of the program.
For your information, this program will be recorded.
For questions, contact: mennist@arboretumfriends.net or lbencivengo@arboretumfriends.net