Thursday 01-20-22 12:00 am (Eastern) 7:00 pm
Location: VIRTUAL ZOOM PROGRAM
FILLED
VIRTUAL ZOOM PROGRAM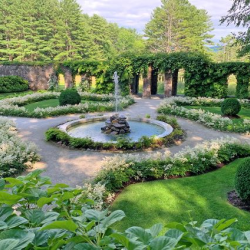 Do you enjoy beautiful gardens? In this armchair tour of some of the best public gardens and hidden gems of New England, you will learn about each garden's history, horticultural highlights and special events that will inspire you to plan your own visit. Photo at right shows a garden at Edith Wharton's home, The Mount, in Lenox, MA.
Jana Milbocker is a garden designer, speaker and author. She combines horticulture, design and travel tips to educate, inspire and delight both new and seasoned gardeners. She is the author of The Garden Tourist, The Garden Tourist's New England and The Garden Tourist's Florida. Jana has lectured at flower shows, horticultural societies, garden clubs and libraries throughout the Northeast. She is the owner of Enchanted Gardens, a landscape design firm in the Boston area.
Registrations will close at 4:00 PM on the day of the program.
Please note that this program will NOT be recorded.
For questions, contact: mennist@arboretumfriends.net or lbencivengo@arboretumfriends.net