Wednesday 06-14-23 08:30 am (Eastern)
Location: The Frelinghuysen Arboretum parking lot
FILLED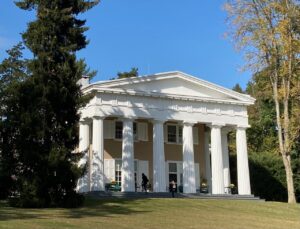 Join the Friends on a trip to Pennsylvania to see the remarkable Andalusia Historic House and Gardens, as well as author Jenny Rose Carey's private garden.
Andalusia is a large Greek Revival mansion on the Delaware River dating to the late 1700's. Five generations of the Biddle family have stewarded the property, which opened to the public in 1980. In 2014, noted British landscape designer Arabella Lenox-Boyd began a major garden renovation, adding 14,000 trees, shrubs and perennials. Today the gardens encompass 50 acres, including rose and peony beds, a white garden, colorful borders, a woodland walk and historic features such as the ice house, stables and ruins of the walled garden.
A box lunch picnic on the grounds will give us time to relax and enjoy the beautiful views of the Delaware River.
From there we head to Northview Gardens in Ambler, created by British plantswoman extraordinaire, Jenny Rose Carey. Originally part of an 1887 Victorian model farm, the 4-1/2 acre garden has 31 distinct areas, each with its own theme and interest in every season. Our visit will conclude with a cup of tea before heading home.
The bus trip fee includes admission to both gardens, a guided tour at Andalusia and a box lunch.
Please register by 12:00 Noon on Wednesday, June 7th – Maximum number of participants: 50
NO REFUNDS AFTER MAY 31
Note: The bus expense has increased by 50%, thus raising ticket costs.