Saturday 05-06-23 09:00 am (Eastern)
Location: The Tent at The Frelinghuysen Arboretum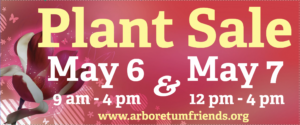 The Friends of The Frelinghuysen Arboretum invite you to our Annual Plant Sale during the first weekend in May.
Throughout the sale you will be able to get advice from local plant experts and to select from a huge variety of houseplants, annuals, perennials, shrubs and trees.
Preview the sale by signing up for free Zoom programs every Tuesday evening during the month before the sale (programs listed by date under Events on our website).
Dates and hours of the 2023 Plant Sale:
Saturday, May 6 – 9:00 AM – 4:00 PM
Sunday, May 7 – 12:00 Noon – 4:00 PM
Reminder: Members may pick up their plant dividend any time during the Plant Sale. Click for more information.
Volunteer Opportunities
Want to get involved and learn more about the plants at this year's Plant Sale? Volunteer to help us set up prior to the sale May 1 – 5 as well as during the sale May 5 – 7.
Visit our Plant Sale 2023 page or sign up to volunteer here: 2023 Plant Sale Volunteers.