Tuesday 06-21-22 12:00 am (Eastern) 7:00 PM Eastern
Location: VIRTUAL VIA ZOOM
VIRTUAL ZOOM PROGRAM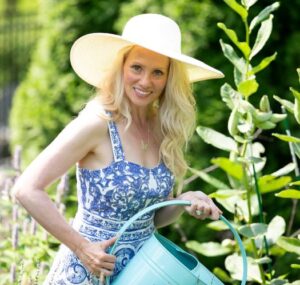 Join Heather Andrews, The Thoughtful Gardener, as she shares the secrets she learned from her Grandfather Andrews in his North Carolina garden, combined with pearls from garden research that will enable you to create an oasis for wildlife and your family. Heather will show us how to welcome the "royalty" of the butterfly kingdom into our own gardens by creating the perfect oasis for the Monarch Migration.
Heather Andrews is an author, photographer, traveler and speaker who works with homeowners and businesses to create sustainable native pollinator habitats. During the growing season you will find her in her Monarch waystation, Cat-a-pillar Haven, video blogging on her YouTube Channel, Garden Thoughtfully. Heather is a two-time recipient of the Pennsylvania Horticultural Society's "Garden of Distinction" Award for her Monarch waystation and for a pollinator garden she designed for the historic Craighead House in conjunction with the Master Gardeners of central Pennsylvania. Her proposal "The Resurgence of Pollinator Hedgerows – Using Science to Create a Pollinator Oasis in Your Own Backyard" was accepted at the 2021 International Master Gardeners Conference.
Registration for this program will close at 4:00 PM on the day of the program.
This program is eligible for 1.0 Rutgers Master Gardener CEU.
The program will be recorded, but available only to people who register for it.
For questions, contact: mennist@arboretumfriends.net or lbencivengo@arboretumfriends.net