Saturday 03-20-21 12:00 am (Eastern) and Saturday, March 27 at 1:00 PM
Location: VIRTUAL PROGRAM VIA ZOOM
FILLED
VIRTUAL ZOOM PROGRAM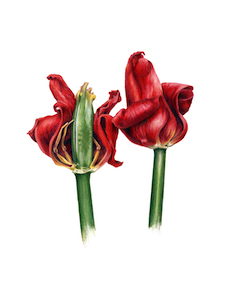 Join Katy Lyness, passionate home gardener and teacher of Botanical Illustration at the New York Botanical Garden, as she returns with a new two-part Botanical Drawing class.
As Spring starts to appear around us, learn how to use colored pencils to capture the singular beauty of the Tulip flower. This two-day workshop will cover basic drawing skills and colored pencil techniques. The first day will cover instruction and demonstration; the second day will consist of constructive critiques of the students' work.
A list of materials to purchase will be provided at registration.
The registration fee covers both classes:
March 20 from 1:00 to 4:00 PM and March 27 from 1:00 to 3:00 PM.
Registration is limited to 16 participants.
MATERIALS LIST
Pencils
Graphite Pencils: 2 of each: 6B, 2B, HB, 2H, Faber-Castell 9000 (or any good quality brand)
Pens
Micron Pens: Set of 3 various sizes, black
Erasers
Tombow Mono Zero Refillable Eraser Round
White plastic eraser
Small kneaded eraser
Pencil Sharpener
Alvin Brass Bullet Pencil Sharperner
Any good electric pencil sharpener. Suggested brands are X-acto Powerhouse, TGHCP double hole pencil sharpener and Jarlink Electric Pencil Sharpener
Paper
Strathmore 400 Series Heavyweight Drawing Pad – 11″ x 14″, 24 sheets
Tracing paper: Canson Foundation Calque 11″ x 14″
Canson Field Sketch ArtBooks 5: x 7″ OR Moleskine Classic Sketchbook 8.25″ x 5″
Colored Pencils: Faber Castell – Polychromos
Cadmium yellow lemon #205, Cadmium yellow #107, Deep scarlet red #219, Salmon #130, Middle purple pink #125, Ultramarine #120, Cobalt turquoise #153, Dark cadmium orange #115, Purple violet #136, Permanent green olive #167, Earth green yellowish #168, Chrome oxide green #278, Dark sepia #175, Dark indigo #15.
Or Prismacolor:
Reds: Process Red, Crimson Red
Blues: True Blue, Ultramarine Blue
Yellows: Lemon Yellow, Sunburst Yellow
Secondaries: Spanish Orange, Olive Green, Apple Green, Sap Green, Lime Peel Greyed Lavender and Dahlia Purple
Neutrals: French Grey 50%, Black Grape, Burnt Ochre, Ginger Root
Colorless Blender
Various:
Ruler – Clear plastic, 6″ or 12″
Alvin Draftsman Duster or large makeup brush
Artist's Tape 3/4″
Florist's Frog (to support plants)
Sketch Board 15″ x 16″ (optional)
Selizo 5 Pcs. Embossing Stylus Set (optional)
Highly Recomended Books:
Botanical Art Techniques, American Society of Botanical Artists
Laws Guide to Nature Drawing and Journaling, John Muir Laws
The Joy of Botanical Drawing, Wendy Hollender
The Science Behind Fowers, Dick Rauh
Also Recommended Books:
Botanical Drawing in Color, Wendy Hollender
Fundamental Graphite Techniques, Katie Lee
Colored Pencil Solution Book, Gildow & Newton
How to Draw Plants, Keith West
Plant: Exploring the Botanical World, Phaidon Press
Suppliers:
www.dickblick.com
www.danielsmith.com
www.amazon.com