Friday 11-30-18 12:00 am (Eastern) 10a - 4:30p daily (Fri till 7:30p)
through Sun Dec 9
Location: Haggerty Center
GINGERBREAD WONDERLAND 2018 Celebrating 27 Years of Wonder!
This December marks the 27th Anniversary of Gingerbread Wonderland. Guests, young and old, marvel at the creativity, skill and sense of optimism that characterizes this charming and ecumenical exhibit of hundreds of edible structures.
Vote for your personal favorite in The People's Choice Awards, sponsored by Shop Rite of Morristown, Morristown Lumber and The Jockey Hollow Stamp Club of Morristown. An award will be given to the first place winners in each of six categories: Adult, Family, Children, School, Scout and Special Needs.
Groups of 8 or more must make a reservation to visit by calling 973-326-7601.
Volunteers Needed!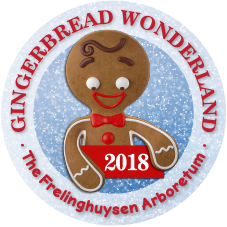 As always, the success of the Gingerbread Wonderland depends on our wonderful volunteers.
Please sign up using our on-line Volunteer Form. Beth Feldman, the Volunteer Coordinator at The Frelinghuysen Arboretum will respond confirming your schedule.
Cost: $2 per person at the door, children under 2 FREE.
Dates: Friday, November 30 through Sunday, December 9 Time: 10:00 am – 4:30 pm daily, Fridays until 7:30 pm