Saturday 01-08-22 12:00 am (Eastern) 1:00 - 4:00 PM four consecutive Saturdays, Jan. 8, 15, 22 and 29
Location: VIRTUAL VIA ZOOM
FILLED
VIRTUAL ZOOM PROGRAMS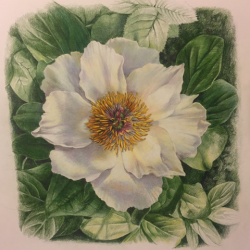 What better way to learn about and enjoy our natural world than to draw it? And what subject is more captivating than a flower? This intro course teaches you techniques for drawing using flowers as the primary focus. The class will include instruction in the use of drawing tools (graphite, pen and colored pencil), techniques for shading, elements of perspective, visualization of light on form, color theory and basic undersanding of plant structure.
Katy Lyness is a passionate home gardener whose interests brought her to NYBG's Botanical Illustration Program. She has been represented in the American Society of Botanical Artists' Annual International Exhibition and is active in the Tri-State Botanical Artists Group. She has an MA in Art Education from Columbia University, Teacher's College.
Enrollment is limited to 16 students, and will close when we have reached that number. We will start a wait list if anyone wishes to be wait-listed.
For questions, contact mennist@arboretumfriends.net or lbencivengo@arboretumfriends.net
The program fees include all four programs.
Please note that these programs will NOT be recorded.
MATERIALS LIST
Pencils: Grapite pencils: 2 of each 6B, 2B, HB, 2H, Faber-Castell 9000 (or any good quality brand)
Pens: Micron Pens, set of 3 various sizes, black
Erasers: Tombow Mono Zero Refillable Eraser Round, White plastic eraser, small kneaded eraser
Pencil Sharpener: Alvin Brass Bullet Pencil Sharpener. Any good electric pencil sharpener: Suggested brands are X-acto Powerhouse, TGHCP double hole pencil sharpener and Jarlink Electric Pencil Sharpener
Paper: Strathmore 400 Series Heavyweight Drawing Pad – 11″ x 14″, 24 sheets. Tracing paper: Canson Foundation Calque 11″ x 14″, Canson Field Sketch ArtBooks 5″ x 7″, or Moleskine Classic Sketchbook 8.25″ x 5″
Ruler Clear plastic, 6 or 12 inch
Alving Draftsman Duster or large makeup brush
Artist's Tape 3/4″
Florist's Frog (to support plants)
Sketch Board 15″ x 16″ (optional)
Selizo 5 pcs Embossing Stylus Set (optional)
Colored Pencils: Faber Castell – Polychromos. Cadmium yellow lemon #205, Cadmium yellow #107, Deep scarlet red #219, Salmon #130, Middles purple pink #125, Ultramarine #120, Cobalt turquoise #153, Dark cadmium orange #115, Purple violet #136, Permanent green olive #167, Earth green yellowish #168, Chrome oxide green #278, Dark sepia #175, Dark indigo #157
Highly recommended books:
Botanical Art Techniques, American Society of Botanical Artists
Laws Guide to Nature Drawing and Journaling, John Muir Laws
The Joy of Botanical Drawing, Wendy Hollender
The Science Behind Flowers, Dick Rauh
Also Recommended books:
Botanical Drawing in Color, Wendy Hollender
Fundamental Graphite Techniques, Katie Lee
Colored Pencil Solution Book, Gildow & Newton
How to Draw Plants, Keith West
Plant: Exploring the Botanical World, Phaidon Press
Also please have a fresh piece of ginger for the first class
Suppliers:
www.dickblick.com
www.danielsmith.com
www.amazon.com